Police Arrest 13 Year-Old Suspected Female Suicide Bomber
The Kano State Police Command on Wednesday paraded a 13-year-old girl suspected to be one of the female suicide bombers who attacked the Kwari Textile Market on December 10. That attack left six persons dead.
At a joint press conference by the Police and the State Security Services, the Police Commissioner in Kano State Command, Aderenle Shinaba, told journalists that Zahara'u Adamu was arrested in a hospital in the city after sustaining an injury following the explosion at the market.
An indigene of Yobe State, in north-east Nigeria, Zahara'u said she was recruited by her father and sent to Kano alongside two others who successfully detonated their own devices at the market, while hers failed to explode.
"My father took me to the bush where there is nothing except tanks. They asked if I wanted to go to heaven. When I said yes, they said i had to do suicide bombing and that if i attempt to run, they will kill me.
"My father said I should first go to heaven and he would join me later. I was so disturbed and decided to do what they asked me to do. It even went to the extent that they told us that if we refuse to take part in that operation they would kill us or they would bury us alive," she said
The suspected suicide bomber further confirmed that she was not one of the girls that were abducted from a school in Chibok by members of a terrorist group, Boko Haram, in April.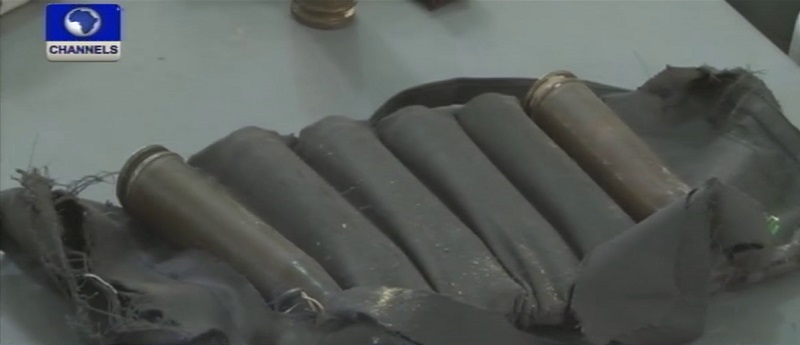 The commissioner also displayed some of the items recovered from the bomber, which included seven explosives and power source.
He said the police found it necessary to address reporters in order to disabuse the minds of the public on the rumour that the spate of bombings in Kano was being perpetrated by a particular tribe.
"We want to disabuse the minds of the public on some insinuations and unfounded rumour that it is the non-indigenes that carry out such heinous acts. In view of the various attacks in Kano, one can understand that no particular tribe is responsible for that; likewise it has nothing to do with the government," the Police Commissioner said.
He warned the residents to desist from spreading rumour as the command would not allow people to take laws into their hands.
Shinaba, who called for continuous support and cooperation of the public, assured Nigerians that the police would also continue to treat any information given to its personnel with utmost confidentiality.