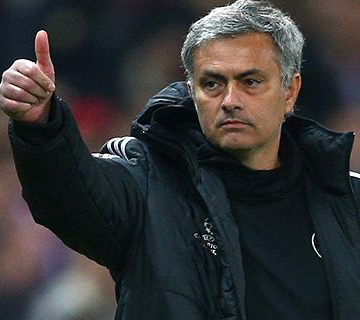 Chelsea Manager, Jose Mourinho, has praised the way his team adapted to different challenges throughout the 90 minutes of a comfortable 2-0 win over West Ham United on Boxing Day.
Chelsea maintained their 100 per cent Premier League home record with a goal in each half, the first by John Terry, his second in a week, and the second a clinical finish by Diego Costa, in what can be termed a dominant Chelsea performance.
Mourinho told Chelseafc.com; "There's no perfection but we played very well against a difficult team.
"We played well in two different versions; the first against a defensive side, and we were very good, we moved the ball, there was a good dynamic and lots of chances.
"In the second half we played against an attacking team that made changes by putting on faster players and playing direct balls into space. We coped well and found ways to counter attack.
"It's very important for a team to identify different moments of the game and to be able to adapt. Today was a good example of that, the players did very well."
Mourinho also explained why there was only one change to the side which beat Stoke on Monday.
"My players are human like all the others but the point is that every match is fundamental, there are no better points than others, every match is an important match.
"We played Stoke on Monday and after that we had three days to recover the players well. Everybody was in condition to play. I made just one change, Oscar for Mikel, because I wanted to give a different design to the team."
Expressing satisfaction that the current season has turned out better than the last for Chelsea, Mourinho said; "Last year we were very strong defensively and very well organised but we lacked a bit of creativity when we had the ball.
"The challenge this year was to bring that creativity and dynamic without losing the defensive qualities of the team… The team is happy to have the ball but also comfortable when the opposition has the ball. I think we are a very good team."
The Portuguese also had kind words for Captain, John Terry after another impressive performance crowned with the opening goal.
"He's always had that, normally four or five goals a season. He's full of confidence. I see my John of 2004, 2005 and 2006 here, I don't see any difference. He's playing so well but when the team is playing so well it's easy for individuals."
The victory would be the ideal way for the Blues to prepare for two away fixtures over the next week, firstly against Southampton on Sunday, and then at Tottenham next Thursday.