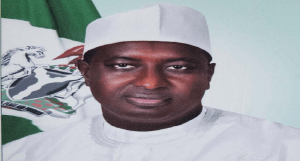 Governor of Kaduna state, Mukhtar Yero, has flagged off the dualization of 14 kilometer Kawo-Station-Command Junction road project, being a decongestant to the heavy traffic usually experienced by motorists in the state capital.
While speaking at the flag-off in Kawo, Kaduna North Local Government Area, Governor Yero said his administration was totally committed to the infrastructural development of the state and would also complete all ongoing projects inherited from his predecessors.
The road, which is a gateway into the state capital, is among the infrastructural challenges facing residents of the capital, which the state government is working hard to address.
The governor, at the flag-off ceremony said the dualization of the road is another promise made and kept by his administration to the people of the state, adding that the project is aimed at reliefing traffic and beautifying the city.
Speaking earlier, the State Commissioner for Works and Transport, Mr Bashir Aliyu, said the road would be completed in three phases, with one starting from Kawo to Lugard Hall Roundabout, while the second commences from Lugard Roundabout to Station Roundabout and the final phase would be from Station Roundabout to Command Junction.
Residents in the area commended the state government's effort at reducing traffic in the city centre and making roads in other parts of the state passable for motorists.
The road dualisation project, which include parking lots and Bus Rapid Transit (BRT) lanes, is being handled by Mothercat Nigeria Ltd and would be completed in 15 months at the cost of over N3.6 Billion.
So far, the administration of Governor Yero,  has completed over 30 roads both within the state capital and rural communities across the state.