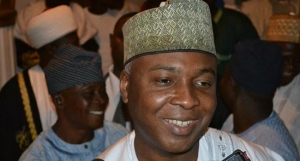 A federal lawmaker, Senator Bukola Saraki, has urged the Nigerian Government to completely remove fuel subsidy and restore normalcy to the sector.
Addressing reporters in Abuja on Monday after the Senate held a meeting with petroleum marketers, Senator Saraki claimed fuel subsidy had provided a platform for fraudulent activities to oil marketers and government officials.
The Senator said the subsidy was used to loot the national treasury on a yearly basis.
He argued that it would be better to remove fuel subsidy and deliver the sector and the citizenry from the grip of racketeers in the industry, who would never allow things to work well because of their selfish interest.
Senator Saraki's comments were made in line with the fuel scarcity in Nigeria.
In most states of the oil-rich nation, the fuel scarcity is biting hard, causing hike in the cost of food items and transport fare.
Service stations are selling fuel far above the official price of 87 Naira per litre.
Few service stations that have the product sell above 300 Naira per litre.
Senator Saraki is a member of the All Progressives Congress (APC) and the incoming President-elect, General Muhammadu Buhari, who is also a member of the APC, had said he would look into the fuel subsidy implementation and address challenges in the oil and gas sector.
The situation has forced several businesses that are dependent on fuel for electricity generation to shut down.