Okonjo-Iweala Replies Oshiomhole On Allegations Of $1bn Misappropriation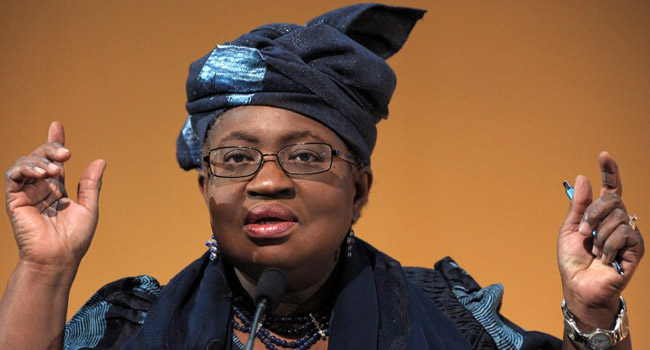 The former Minister of Finance has again faulted claims by the Edo State Governor that she spent billions from the Excess Crude Account as lacking credibility.
Dr. Ngozi Okonjo-Iweala, in a statement on Tuesday accused Governor Adams Oshiomhole of repeatedly trying to damage her reputation within the last few months by seeking explanations to how monies related to the Excess Crude Account were spent.
According to the former minister, Governor Oshiomhole's publications contain falsehoods which include statements that the she and state finance commissioners approved the spending of 2.1 billion dollars out of the excess crude account , adding that the commissioners had disowned the statement.
She said that her ministry regularly published details of revenue allocations from the ECA in national media, so Governor Oshiomhole's calculations are mere political numbers conjured to achieve a political purpose
Commenting on Oshiomhole's latest statement, Dr. Okonjo Iweala said that an impression is being created that the Federal Account Allocation Committee (FAAC), which involves the federal government and the 36 states is a personal monopoly of Dr. Okonjo-Iweala.
She says, "FAAC is a long standing national platform for allocating revenues chaired by the Minister of State for Finance and the governors insistence on pushing this fictional narrative underscores his desperation."
The Edo State Governor accused the former Minister of Finance and Coordinating Minister of the Economy, Dr. Ngozi Okonjo-Iweala, of misappropriating a sum of $1 billion from Nigeria's Federation Account.
Governor Adams Oshiomhole alleged that the money was illegally taken to fund the March 28 re-election bid of former President Goodluck Jonathan.
He made the allegation at a seminar held in Benin City, the capital of Edo State and organised by the Edo State government for Permanent Secretaries, Directors and Deputy Directors, with the theme "Enhancing IGR In Edo, Issues, Prospects And Challenges".