New Chief Of Defence Staff, Other Service Chiefs Resume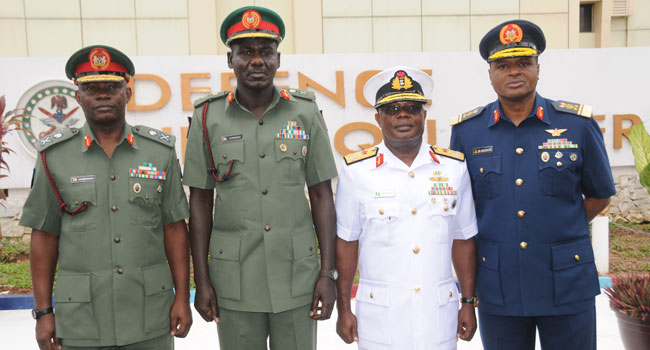 The former Chief of Defence Staff, Air Chief Marshall Alex Badeh, has officially handed over to his successor, Major General Abayomi Olonisakin.
The handing over ceremony for the outgoing and incoming Chief of Defence Staff held on Tuesday in Abuja, the nation's capital.
The Defence Headquarters had earlier shared images from the event via its Twitter account.
Major-General Abayomi Olonishakin completed his resumption formality by receiving the Defence Flag from the outgoing CDS.
Addressing a news conference after the hand over ceremony, the new Chief of Defence Staff said that it was time for the Nigerian military to re-double its efforts in curbing terrorism in the country, especially in the north east.
The new Defence Chief also stressed the need to strengthen the just relocated military command base in Maiduguri.
At a separate ceremony to hand over the leadership of the Nigerian Air Force and the Nigerian Navy to their new leaders, the two service chiefs also identified security as top in their priorities.
While the Chief of Naval Staff stressed the need to step up the fight against crude oil theft, his counterpart at the Air Force promised prudent use of resources to motivate officers and men for the counter insurgency operations.
The change of batons by the Chief of Air Staff, Chief of Naval Staff and the new Chief of Defence Staff climaxes all the transfer of powers from the former service chiefs to their successors.
The new Chief of Army Staff, Major-General T.Y. Buratai, had resumed on Thursday, July 16.
The new service chiefs take over from the former military leaders who were relieved of their duties by President Muhammadu Buhari earlier in the month.
As it stands, all new service chiefs recently appointed by President Muhammadu Buhari have officially resumed their offices as leaders of their various services.