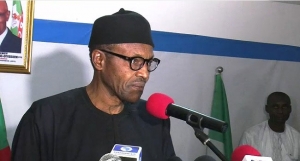 Nigeria's President, Muhammadu Buhari, on Wednesday assured Nigerians that the days of Boko Haram are numbered.

"President Buhari assures all Nigerians that the days of Boko Haram are numbered", a statement released via the Twitter handle of his Senior Special Adviser on Media and Publicity, Garba Shehu, said.
"Boko Haram's reign of terror in parts of the country will be finally over very soon as the ongoing military onslaught against the terrorist sect will continue relentlessly until total victory is achieved", he tweeted.
The President also directed the Armed Forces and National Security Agencies to provide maximum security across the nation during Eid-el-Kabir prayers and celebrations, especially in areas most vulnerable to terrorist attacks.
The tweets added that President Buhari felicitates with all Nigerians of the Islamic faith as they celebrate this year's Eid-el-Kabir and congratulates all Nigerian Muslims who are currently in Saudi Arabia to participate in the rites of the Hajj.
He urged Muslims and other Nigerians to rededicate themselves to "a greater acceptance and internalisation of its lessons of piety, faithfulness, dedication, fortitude, obedience, sacrifice and selfless service which are for the benefit of all mankind.
"President Buhari called for more patience, fortitude, tolerance, endurance, patriotism & willingness to make personal sacrifices for the good of all.
He also seized "this opportunity to extend heartfelt commiserations to families in Maiduguri, who have lost loved ones in recent terrorist attacks.
The tweets also noted that "President Buhari's thoughts and prayers for Divine solace are with all those who have been callously plunged into mourning by mindless terrorists, when others are celebrating this year's Eid-El-Kabir.