UN Condemns Saudi-Iran Dispute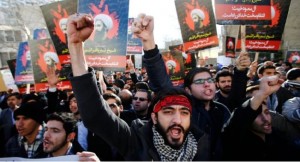 The UN Security Council has strongly condemned an attack on the Saudi embassy in Tehran by protesters angered by the execution of a Shia cleric.
Saudi Arabia has broken off diplomatic relations with Iran and is cutting trade and air links.
On Monday, some of Riyadh's allies also joined diplomatic action against Iran.
Meanwhile, the Turkish government had urged both sides to calm their diplomatic row, saying the dispute will only worsen regional tensions.
Deputy Prime Minister, Numan Kurtulmus, said that the Middle East is "already a powder keg".
He criticised attacks on Saudi missions in Iran and he also criticized Saudi Arabia's execution of a Shia Muslim cleric, which triggered the dispute.
Saudi Arabia and Iran are respectively the key Sunni Muslim and Shia powers in the region and back opposing sides in Syria and Yemen.
Saudi Arabia had earlier criticised UN Secretary General, Ban Ki-moon, who had spoken of his "dismay" at the executions, however, Mr Mouallimi described Mr Ban's comments as "misinformed".
Following the attacks on the missions, Saudi authorities announced late on Sunday that they were severing diplomatic relations with Iran. They said that all commercial and air traffic links were being cut and that Saudi citizens were banned from travelling to Iran.