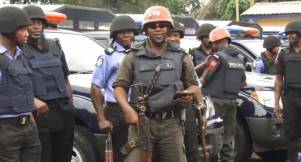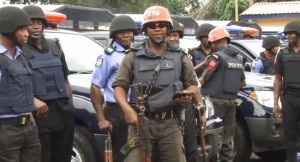 Tension has continued to mount in Kogi State House of Assembly as the police seal off the complex, following attempt by one of the factions of the House to convene a meeting, in the complex.
The meeting was to be convened allegedly at the instance of the past Governor of the state, Capt. Idris Wada,.
The motive, according to a source, was to bring  back the leadership loyal to the formal governor.
The crisis started when Honourable Ukubile Ochijenu-Achara moved a motion for the impeachment of the speaker, Honourable Jimoh Lawal.
According to Honourable Ochijenu-Achara, an Impeachment letter was signed by 17 members of the House.
The impeachment brought the emergence of Honourable Osiyi Ojo, as the factional speaker of the House.
The House of Assembly is presently divided in two factions with each of the faction group laying claim to the position of the Speaker.
Armed policemen had been stationed at the premises of the House of Assembly, depriving both workers and members gaining access to the complex.
While  answering questions from reporters on reasons for the presence of armed men, the State Commissioner of Police, Besan  Gwana, said that an intelligent report revealed that hoodlum would come to vandalize the House of Assembly.
The Chief Whip of the House of Assembly, Paul Sanni, who is on the other factional group, attributed all the present problems rocking the House to Mr Wada.
He said that Mr Wada planned to remove the Speaker and install his preferred candidate.
Yesterday, a new era began with the swearing in of a new governor of the state, Mr. Yahaya Bello. Although he was sworn in without a deputy, his emergence has ended the administration of Capt. Idris Wada.