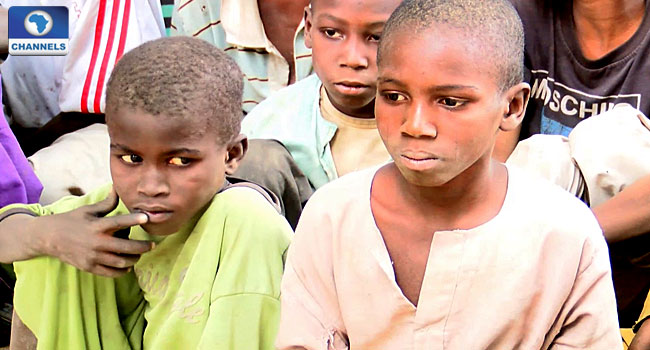 The Victims Support Fund (VSF) has distributed some learning materials to 3000 school children in Yobe State, Northeast Nigeria.
Text books, writing materials, and bags among others were distributed to school children affected by insurgency in Adamawa, Borno and Yobe states.
The gesture was disclosed by the Executive Secretary of the Victims Support Fund, Professor Sunday Ocheche, while launching the programme at the IDPs camp in Pompomari area of Damaturu, the Yobe State capital.
Professor Ocheche said that the mandate of his organisation is to administer support to victims of insurgency and create the enabling environment for accelerated recovery and sustainable peace and development in the country, particularly the affected areas.
He said that apart from the educational support, the organisation is also committed to promoting peace in the war ravaged areas and the country as a whole, as well as engage in economic empowerment for the less privileged affected by the Boko Haram insurgency.
Ocheche said that the intention of the organisation is to directly impact the lives of children in the state who are victims of the insurgency.
He expressed hope that the efforts done so far by government and Non-Governmental Organisations across the country and the world at large would help reduce the re-occurrence of the Boko Haram insurgency.
Receiving the materials on behalf of the Yobe State government, the Commissioner of Education, Mohammed Lamin, called on others to emulate VSF by providing other interventions in the areas of chairs construction of classroom blocks among others.
He urged the school authorities to ensure the teachers and pupils make the best use of the materials supplied.
In his remark, the Headmaster at the Pompomari IDP School, Mr Bunu Bulamaand, and a teacher in the school, Mr Oluwaseun, both described the gesture as magnanimous and promised to use the teaching facilities for the purpose intended.
The pupils, according to them have greatly improved academically compared to how they started and called for more support towards assisting the educational needs of the displaced children.
The next critical support according to VSF, would be targeting the economic empowerment of women, mostly the IDPs who lost their husband during the war and have assumed responsibility of the home.