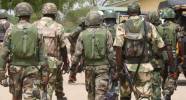 The Nigerian Army is more prepared to tackle insecurity in the country with the level of training and retraining going on in the force.
A former Corp Commander of the Nigerian Army Education Corp, Ilorin, Major General Sunday Adebayo (Rtd) stated this at the pulling out ceremony in his honour at Nigerian Army School of Education Ilorin.

He said that the country is confronted with a daunting responsibility of ensuring security alongside other agencies and charged them to be committed and responsible.
He explained further in an interview with Channels TV that the Nigerian Army is well prepared to face all challenges of insecurity because the current level of training and retraining being embarked upon by the Chief Of Army Staff has been a motivating factor.
While pledging continuous loyalty of the Army to the civilian democratic rule, he lamented that the economic crunch has made it difficult to provide for most of the things needed by Army officers unlike some years ago when he joined the force.
Major General Sunday Adebayo retired in August 2015 and the pulling out parade was meant to show appreciation to the man who has spent his youth serving the country.
The parade was witnessed by his family, friends and well-wishers.