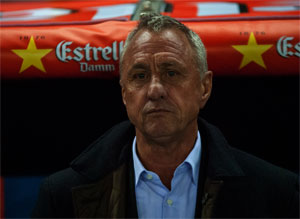 Netherlands football legend, Hendrik Johannes Cruyff, simply known as Johan Cruyff has passed on.
The Dutchman, who died of cancer at the age of 68, was earlier diagnosed of cancer in October 2015.
The professional football player and coach became popular while playing as a striker with Ajax and Barcelona.
He also won the prestigious European football award, Ballon d'Or three times in 1971, 1973 and 1974.
Johan Cruyff won three successive European Cups with Ajax and also led Spanish giants, Barcelona as coach to their first European Cup victory in 1992.