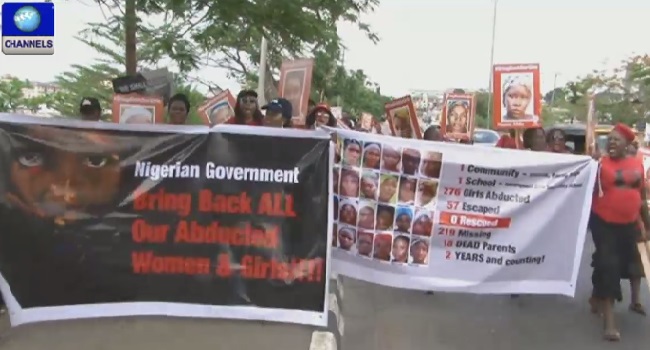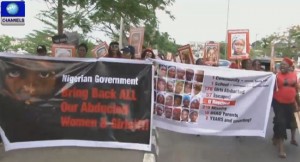 The march in commemoration of the 2-year anniversary of the Chibok girls abduction, which started from the Unity Fountain climaxed as planned at the Presidential Villa.
However, a human barricade formed by men of the Nigerian Police stopped members of the 'Bring Back Our Girls' group from gaining access into the villa.

That did not, however, stop the campaigners from continuing with their planned itinerary at the Presidency which ended with a press conference.
They delivered their message to the President right there.
First they asked the President to act fast to rescue the girls, some of which some parents had just identified in recent pictures on CNN.
Other major demand of the group is that government should investigate every case of kidnapping, whether or not it is related to Chibok, set up a missing persons verification bureau as well as a rehabilitation platform for victims of insurgency.
The Chairman of the Chibok community, Tsambido Hosea, also asked for the establishment of a special search and rescue team with a special mandate to locate and rescue the Chibok girls.
He said that members of the community have continued to grieve over the faith of the girls and are asking the federal government to step up efforts to find them.
Meanwhile, the co-convener of the BBOG campaign group, Dr Oby Ezekwesili, reassured Nigerians that the movement is apolitical with interests focused on good governance alone.
"Those who have misrepresented our advocacy to mean some politics need to be mindful of the fact that politics has not delivered anything valuable to any of our Chibok girls," she said.
The campaigners said that 731 days is no joke and is too long a time for young girls to be left at the mercy of insurgents and away from home but they are not giving up until the girls are back and alive.
They insisted that government must act fast on the new information available.
One of the parents of the Chibok girls, Esther Yakubu, while berating the Police for denying them access to the Presidential Villa, said tearfully, "It is not our fault. We didn't beg for it and we didn't pay the Boko Haram to kidnap our girls. They did it just to fulfill their selfish interest."