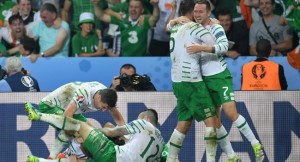 The Republic of Ireland have secured a place in the next round of the Euro 2016 after beating Italy 1 – 0 on Wednesday.
The victory was achieved with spirited efforts just as Wes Hoolahan made a fantastic cross converted to a goal by Robert Brady.
The late goal, which came in the 85th minute was consequent to Hoolahan's failure to send the Irish into ecstasy after missing a brilliant opportunity.
Meanwhile, Belgium also thrashed Sweden with Radja Nainggolan scoring the lone goal.
Italy, Belgium and the Republic of Ireland have now qualified for the next round while Sweden are out of the competition on-going in France.