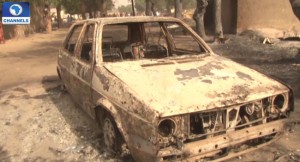 Four persons were at the weekend killed in a reprisal attack between Fulani men and some farmers at Barakuta in Bosso local government of Niger State.
Many houses, four cars and 17 motorcycles were burnt in the attack.
The Niger State Police Command, Police Public Relations Officer PPRO, DSP Bala Elkana said that unidentified gunmen attacked the village, killed four people, injured one person and burnt down many houses and valuables like their food stores.
Elkana stated that the situation has been brought under control with the deployment of Police and military. He gave the assurance that the invaders numbering about 200 would not escaped arrest.
He added people of the community should remain calm because the security agencies were on top of the situation.
Investigation revealed that the crises began last Thursday when some men suspected to be Fulani gathered to celebrate Sallah and two of them chased a girl into a Gwari man's house allegedly in an attempt to rape her.
The men were denied entry into the compound and a fight broke out, during which the son of the family head was injured and later died.
The reprisal attack, according to report, was the result of the Gwaris' attempt to get revenge on the Fulani men.