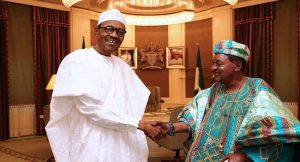 President Muhammadu Buhari on Thursday held talks with the Alafin of Oyo, Oba Lamidi Adeyemi, behind closed-doors at the Presidential Villa in Abuja, Nigeria's capital city.
Addressing reporters after the meeting, the Alafin said they deliberated on problems facing Nigeria, including the militancy in the Niger Delta and insurgency in the northeast.
According to him, President Buhari has requested that traditional rulers in Nigeria should convey their advice on problems in the nation in writing.
The Alafin said one major diplomatic point the president scored recently was the visit of the United States Secretary of State, John Kerry.
"America does not usually send top officers for such visits if they have not used certain parameters to gauge the country's performance," he stated.
President Buhari had told Mr Kerry at a meeting that his administration would institutionalise the anti-corruption war to ensure it would last beyond his current tenure in office.
On the outcome of the Thursday meeting, Oba Adeyemi decried what he called huge resources that were lost to the activities of the Niger Delta Avengers and commended the Federal Government for stopping them from the invasion of the south-west, especially Lagos State.
He expressed joy that the Federal Government responded immediately to wipe out the threat.
The Alafin further told reporters that normalcy had since returned to Ikorodu and Arepo areas of Lagos State and Ogun State where militants' criminal activities were beginning to surge.
Nigeria's crude oil output had dropped by 700,000 barrels per day to 1.56 million bpd, as a result of attacks on oil installations largely carried out by the Niger Delta Avengers.
The group has, however, agreed to stop attacks on the facilities, while it will hold negotiations with the Federal Government.