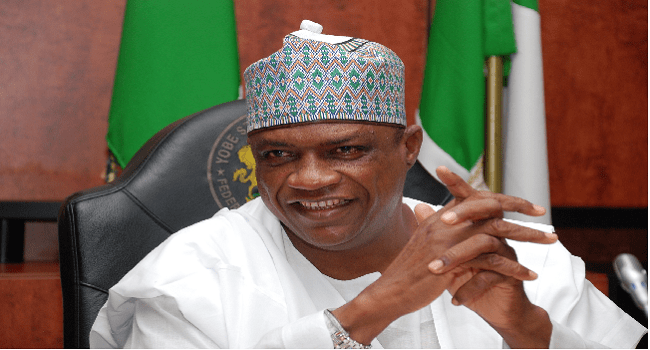 The Yobe State governor, Ibrahim Gaidam has urged traditional institution in the state to explore possible ways of minimizing conflicts among diverse people in the state particularly between farmers and pastoralists.
The governor stated this at the formal installation and presentation of Staff of Office to the first class Emir of Ngelzarma in Fune Local Government Area of the state.
Traditional institution the governor said has a serious role to play in the maintenance of peace among diverse people within their domain, which employs them to also mobilize their subjects to participate fully in immunization exercise as well as embark on self-help projects in complementing government efforts.
He urged the royal father to be prepared for challenges ahead in leading his subjects to the path of meaningful development.
"With this appointment, you should be prepared to shoulder heavy responsibilities associated with your office.
"Your role as Emir of Ngelzarma demands that you serve your people honestly, diligently and uphold the dignity and honour of all people in your domain irrespective of their social-economic, religious and tribal differences and we also expect you to provide able leadership to the people.
"To achieve the desired objectives, of rendering exemplary leadership you should constantly seek the advice of honest, knowledgeable men of wisdom in your immediate domain and beyond and I also urge the followership to be obedient to the new Emir and all those persons in position of authority" the governor said.
The Chairman Fune Local Government Council Umar Sanda commended the governor for upgrading Ngelzarma traditional institution and assuring that the gesture will spur the people to continue to contribute meaningfully in complementing government policies and programs.
He says the institution along with the Local Government will continue to ensure peaceful coexistence among the device people of the area irrespective of any difference.
"We are must grateful to His Excellency for upgrading the Emir of Ngelzarma to a first class emir in the state and I want to assure the governor that we will continue to work assiduously towards promoting government policies and programmes for the development of the state and the country as a whole.
The Emir, Alhaji Mohammadu Zannah Maiyeri Ibn Isah III on his part also commended the governor, traditional leaders and well-wishers across Yobe, Borno and beyond for the love shown to him and the Ngelzarma Emirate Council.
"Let me thank the Governor and all Emirs across Yobe and Borno and well-wishers for the solidarity accorded me and the people of my domain. We are indeed indebted to them".