Economic Recession: Bank of Agriculture Disburses N21.5billion to 107,200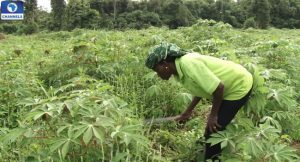 As part of efforts to bring Nigeria out of the current economic recession, Bank of Agriculture, BOA, has given out over N21.5billion to 107,200 farmers nationwide.
This was disclosed by the Zonal Manager, South-West Region, Mrs Idiat Folorunsho at the empowerment programme of the bank of Agriculture held in Osogbo, the state capital of Osun State.
Folorunsho, who stated this during the presentation of cheques to the representatives of hundreds of beneficiaries, who were selected for Ooni Ogunwusi's Agric-empowerment programme, explained that the dwindling oil revenue has forced a rethink in strategy in favour of agri-business
She noted that BOA has since realized this and has taken necessary steps through deliberate policies and special programmes aimed at galvanizing agriculture and engendering the development of agribusinesses.
Folorunsho further stressed that the bank is always ready to produce young farming entrepreneurs to assist in food production and to make the nation to be self-reliance in all agricultural products.
Under the scheme, Folorunsho said about 40billion Naira has been set aside to serve as a special purpose vehicle to ensure proper implementation of the programme to farmers nationwide.
She further disclosed that under the scheme the most recent one is BOA Anchor Borrowers Programme, ABP, which provides some degree of support through the supply of inputs and technical advice to the farmers.