Officers Should Remain Committed Despite Progress In Fighting Insurgents- GOC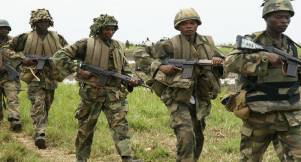 The General Officer Commanding (GOC) 3 Division of the Nigerian Army, Major General Peter Dauke, has tasked officers and men of the Armed Forces in Yobe state, northeast Nigeria, to remain committed despite successes being recorded in the war against insurgents.
The GOC said professionalism and dedication are strategic and both attributes must be observed at all times in the fight against terrorism and insurgency.
In a news conference in Maiduguri, Theatre Commander of the Operation Lafiya Dole, Major General Lucky Irabor, revealed that troops had dominated most parts of the Sambisa Forest including notorious Boko haram enclaves, rescuing a total of 1,880 civilians between December 14 and 21, 2016.
Addressing officers and men at the decoration of four Lieutenant Colonels who were promoted to the rank of colonel in Yobe state, the GOC said even as the war is being won, security forces must remain committed to ensuring that the insurgents are defeated completely.
"Despite the successes being recorded at the theatre of war, I want to call on our officers and men to stay firm and ensure that the insurgents are totally defeated and peace restored.
"We expect you people to do that within the next few moments we have in this battle, in line with the commitment of the Chief of Army Staff towards ending the war" Major General Dauke said.
He then tasked the promoted officers to justify the confidence the Chief of Army staff and the military hierarchy has in them.
"Promotion comes with more challenges, but it is believed you are capable, that's why you are being elevated to handle such challenges. You must be determined to succeed in handling such challenges if you must reciprocate the confidence reposed in you".
Dauke assured the officers and men that the highest military hierarchy would do everything possible to ensure normalcy is restored not just in the northeast but across the country as a whole.
Speaking on behalf of the promoted officers, Colonel Aboi thanked the Chief of Army staff and the entire military hierarchy for the confidence they have in them and pledged their total commitment towards the restoration of peace across the country.
"I want to thank the Chief of Army Staff and the entire military hierarchy for the confidence reposed in us and on behalf of my promoted colleagues.
"I want to assure all Nigerians that we will continue to do our best in the quest of restoring peace and normalcy across the country" Aboi assured.