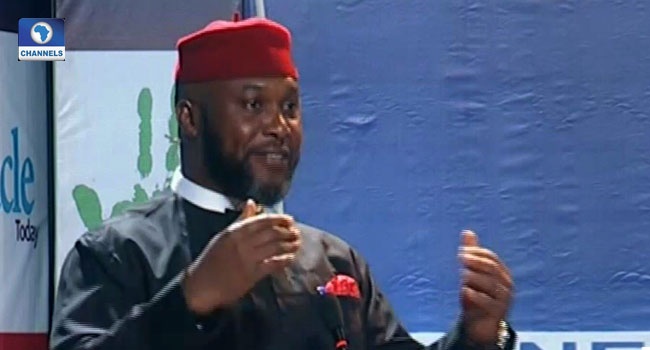 Governorship candidate of the United Progressives Party, Mr Osita Chidoka, has conceded defeat in Saturday's governorship election.
Mr Chidoka, a former Minister of Aviation and ex-Corps Marshall of the Federal Road Safety Corps, wished the governor-elect well and thanked his supporters for standing by him.
"We thank all our volunteers, party loyalists and teeming supporters from across the state; courageous men and women who laboured tirelessly to give wings to our dream. I salute you all," he said in a statement on Sunday afternoon, a few hours before INEC announced the final results.
In the statement, Mr Chidoka defended his campaign and his intention for the people.
"Our campaign attracted the finest and brightest of Anambra. The bold and the courageous were with us as we exerted our best in running the most robust issue-based and technology-driven campaign in the history of our dear state," he said.
"We attempted to change the course of events and chart a new beginning for our state. We believed and we dared; we engaged with all patriotic vigour as we held strongly that the long-awaited time for our people to experience a new opportunity had come and we laboured for it."
Due to a strong distrust of politicians, Mr Chidoka believes the people shunned him for "highest bidder".
He said, "From the ballots, we heard the voice of our people. We heard it loud and clear. On November 18 our people announced strongly their rejection of politicians. They traded their votes because they doubted we would truly represent their interest.
"While our message resonated with the people they doubted that the political class cared about them. They voted for the highest bidder."
Regardless, he explained that his focus was the people, "the forgotten, the poor and disadvantaged".
"They were the prime impetus for our involvement. We beheld their agony and we strived to redirect and vent that energy through a genuine political process. We heard the complaints of our people and we worked to redirect them from the streets to the ballot box," he said.
"Upon that pedestal, we rejected god-fatherism and money politics. Instead, we made personal sacrifices and worked with small donations and goodwill of a few good men and women. Our campaign started and remained issues-based. We attacked no persons; we looked up in faith because we believed."
Having lost the election, polling 7,903 votes across the 21 local government areas of the state, Mr Chidoka said he would retreat but not surrender.
"The election, with all its evident flaws, has come and gone, but now that we have engaged in the political process, we will remain engaged. We will retreat for now but we shall not surrender.
"We wish the Governor-elect a successful tenure, but we will still be available to point out the way and provide credible alternatives for our people."
The UPP candidate vowed to stay the cause despite his loss.
"We are not discouraged but shall continue to propagate our message of a new Anambra. We shall continue on the course for which we went into the race and we shall continue to believe and work until that new Anambra of our dream is born," he said.