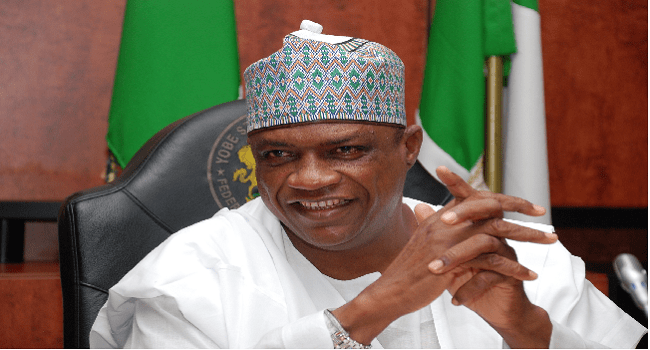 The Yobe State government will approve the complete reconstruction of at least five schools in its 2018 fiscal year, in addition to the ongoing reconstruction of dilapidated schools in the state.
Governor Ibrahim Gaidam said this on Friday shortly after inspecting the Government Secondary School, Nangere, where complete reconstruction and equipping of the school was carried out.
He also commended the various projects carried out in the school which include classrooms, student hostels, staff quarters, laboratories, and library among others.
The Governor, who lamented the devastation in the education sector caused by the Boko Haram terrorists, said about five schools would be awarded for complete reconstruction and equipping promised that in the 2018 fiscal year.
According to him, this would help to provide a conducive environment for academic activities for the future leaders.
"This administration has earmarked between five to six schools for complete reconstruction and equipping with the required furniture and other requirements therein.
"We are doing this to encourage education which came under lots of devastation by the Boko Haram insurgents," the governor said.
The State Commissioner of Education, Mr Mohammed Lamin, who said the entire projects cost the government more than N490, stressed that the problem of electricity supply in the school was yet to be addressed.
"The government has committed over N490 million for the complete reconstruction and equipment of facilities and furniture in this school alone.
"Let me thank the state government for this huge investment with assurances that the fruits will be known in time to come," he said.
On his part, the school principal Mohammed Wakil thanked the governor for the renovation works.
He said it would go a long way in motivating the teachers and students and assured the governor that they would work assiduously towards attaining the desired academic standards.
"Let me thank the Gaidam administration for transforming this school and let me assure you that it will greatly encourage teaching and learning in the school.
"On behalf of my teachers and students, I want to assure the governor that we will put in our best in ensuring that the objectives for such renovations are achieved," Wakil said.
Governor Gaidam was accompanied on the tour by top officials of the State Ministry of Education and other education-related agencies among others.
The reconstruction and equipping of schools across the state began last year with the aim of encouraging school enrolment, teaching and learning, following the activities of the terrorists in Yobe and other states in North East Nigeria.
So far, five schools have been upgraded and equipped with the required facilities aimed at creating a conducive atmosphere for academic activities.