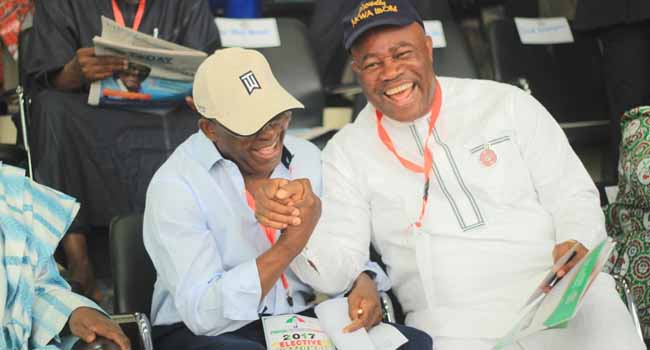 The former national chairman of the Peoples Democratic Party's caretaker committee, Senator Ahmed Makarfi has urged the newly elected chairman of the PDP, Mr Uche Secondus to pursue reconciliation to the latter.
Senator Makarfi made the appeal at the PDP headquarters in Abuja, where the formal handing over ceremony was performed.
In his remarks, the PDP national chairman, gave the assurances that reconciliation will be the first assignment of his theme.
According to him, the process of reconciliation has already started, saying that the gate of the party will also be thrown open for those who left the party for one reason or the other to come in.
Mr Secondus was declared the winner of the election, around 3:30 am on Sunday, after which he was sworn in.
He defeated a former Minister of Education, Professor Tunde Adeniran and Founder of Daar Communications, Raymond Dokpesi, in a controversial election.
The results, announced by the immediate past Governor of Benue State and Chairman of the electoral committee, Mr Gabriel Suswam, showed that Secondus polled 2,000 votes, compared to the 231 votes secured by Professor Adeniran and the 66 votes that went to Dokpesi in the election.
In his acceptance speech, Secondus verbally served the APC a 'quit notice', vowing to lead his party back to power in 2019.
"Let me assure you great members and leaders of our party, that by the grace of God and with all hands on deck, the brief tenancy of the All Progressives Congress (APC) in Aso Rock Villa expires on May 28, 2019. By this, we serve them a quit notice," he said.
In launching his attack on the APC, the new PDP chairman turned to a quote by Dwight Eisenhower.
He said, "In the words of the 34th President of the United States of America Dwight Eisenhower, 'If a political party does not have its foundation in the determination to advance a cause that is right and that is moral, then it is not a political party; it is merely a conspiracy to seize power'.
"Judging from this, it is crystal clear to all Nigerians, that APC is not a political party, but a body hurriedly assembled to seize power without a clear-cut plan for governance."
After taking his shot at the APC's foundation, the PDP National Chairman argued that his party was founded on ideals that are "totally in tandem" with those of Nigeria's founding fathers.