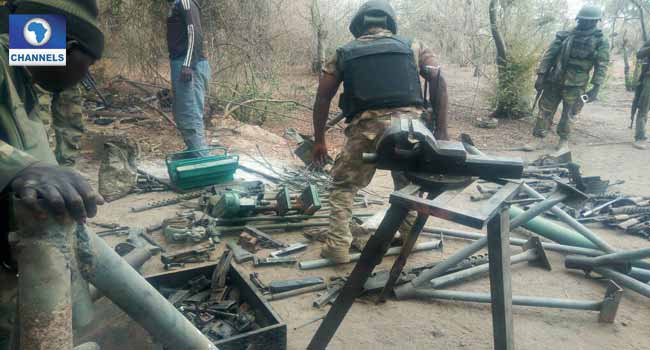 Troops of Operation Lafiya Dole currently on Operation Deep Punch II which is aimed at the clearance of the remnants of Boko Haram terrorists within Sambisa forest and Lake Chad Basin general area have continued to record successes.
The troops according to a statement signed by the Deputy Director Public Operation, Lafiya Dole, Colonel Onyema Nwachukwu, on Saturday explained how the troops have continued to launch offensive operations on suspected hideouts of the terrorists, keeping the insurgents on the run.
"Two days ago, on Thursday, February 22, 2018, suspected Boko Harm terrorists attempting to escape through one of the blocking positions of the troops, paid dearly as quite a number of them were neutralised.
"In an ambush that lasted for less than 20 minutes near Sabil Huda, the troops recovered a G3 rifle magazine, one life jacket, a light machine gun metal link, four rounds of anti-aircraft ammunition, four rounds of 7.62mm (NATO) ammunition and three rounds of 7.62mm (Special) ammunition," the statement read in part.
READ ALSO: 'My Sister Is Still Missing': Dapchi Schoolgirl, Others Narrate Ordeal
Nwachukwu explained further that two soldiers were injured in the process but they have since been evacuated by the Nigerian Air Force.
The troops also on Friday, February 23 embarked on more operations on the suspected Boko Haram terrorist hideout ahead of Camp Zairo within Sambisa forest.
During the clearance, the troops neutralised five Boko Haram terrorists and wounded several others.
"The troops recovered a 122millimetrer gun mounted on a truck that also has an anti-aircraft gun on it, one rocket-propelled grenade, one grenade revolver, seven mortar bombs and other assorted weapons. While advancing, the troops also encountered and recovered two Toyota Hilux vehicles, three power generating sets, two motorcycles, additional mortar bombs, gas cylinders and the Boko Haram terrorists Metal fabrication factory replete with varying machines for welding and making IEDs," Nwachukwu said.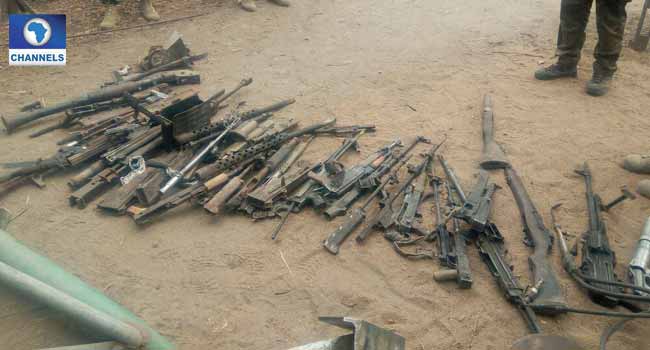 The troops also rescued an old man and three elderly women in one of the hideouts.
Other items recovered by the troop include one motorcycle, 10 bicycle tyres, a bicycle, three Boko Haram flags, one solar panel, five drums of guinea corn, two medium size mattresses, two grinding machines, three bags of metal scraps, two motorcycle tyres and two underground food Storages.
They also recovered one AK-47 Rifle Magazine, one dummy rifle, a round of  12.7mm ammunition, 12 empty cases of 7.62mm ammunition, two bicycles, a large quantity of IED making materials and a toolbox.