Killing Of Aid Workers Is Repulsive 'Before God And Man' – Buhari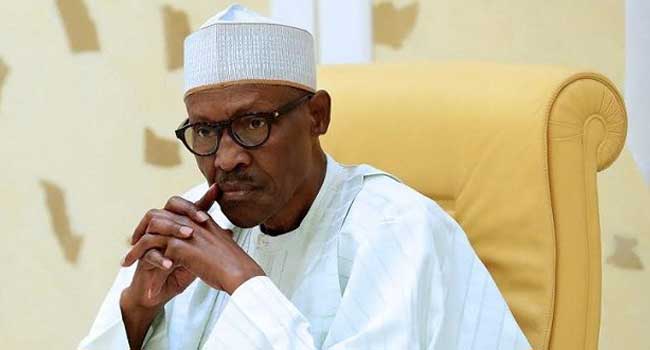 President Muhammadu Buhari says the attack on humanitarian workers in Rann, Borno State, has now shown Boko Haram terrorists as godless, brutish, and utterly to be despised.
The President condemned the attack by the insurgents on Friday in a statement by his Special Adviser on Media and Publicity, Femi Adesina.
Members of the outlawed group had attacked an Internally Displaced Persons (IDPs) camp on Thursday, killing the three aid workers, while three others were injured and a female nurse missing.
READ ALSO: Boko Haram Kills Aid Workers, Injures IDPs In Borno
Reacting to the incident, President Buhari said, "As I have always maintained, no true religion advocates hurting the innocent."
"To now further attack and kill those offering humanitarian aid is the height of bestiality; it is odious before both God and man," he added.
The President further sympathised with the United Nations and other humanitarian agencies working at Rann, and in the country generally.
He affirmed that such cowardly attacks can only bolster the determination of the Federal Government to bring the Boko Haram insurgency to a decisive end, in the shortest possible time.
Earlier, the United Nations asked the Nigerian government to ensure the killers of the aid workers were brought to book.
"Aid workers put their lives on the line every single day to provide emergency assistance to vulnerable women, children, and men," the UN Humanitarian Coordinator in Nigeria Edward Kallon had said.
"Our deepest condolences go to the families of the victims and our brave colleagues and we call on authorities to ensure the perpetrators are brought to justice and account."
Two of the deceased aid workers were contractors with the International Organisation for Migration, working as coordinators in the camp for 55,000 IDPs who have fled their homes as a result of the insurgency.
The other deceased aid worker was a medical doctor employed as a third-party consultant with UNICEF.
The UN had also raised concern about other civilians who may have been injured or killed in the attack, saying "the crisis shows no sign of abating".