Boko Haram: ICRC Provides Free Surgery For Bomb Attack Survivors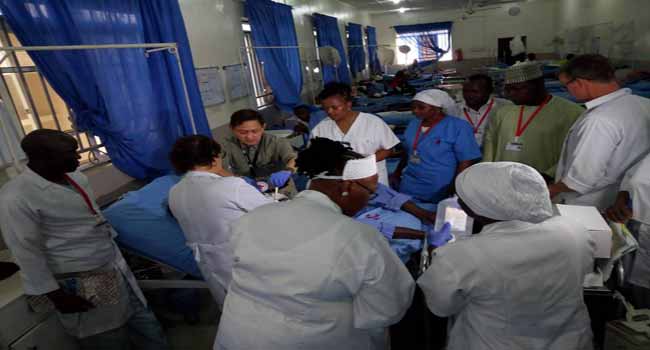 The International Committee of the Red Cross (ICRC) operating in Borno State says it has provided free surgical care to 751 battle wounded patients in Maiduguri.
Giving succor to victims of Boko Haram attacks, the health organisation said this is in line with its mandate of caring for victims of war and violent situations.
ICRC which has also established a 40-bed center for pediatrics, male and female patients at the specialist hospital in Maiduguri to cater for survivors of bomb explosions and gunshots from different parts of Borno and Yobe states said the victims treated for free at the centre.
The Head of Sub delegation ICRC Maiduguri, Armin Mosimann speaking with Channels Television concerning the operations said it is extremely valuable.
READ ALSO: 95 Repentant Boko Haram Fighters Set For Reintegration Into Society
"We had more than 100 operations only for victims of Konduga blast. We can prove that this is a very valuable programme for the victims," Mosimann said.
Broken limbs, second degree injuries and internal wounds, are some cases treated at the ICRC centre
In 2017 alone, due to unprecedented number of injured persons during explosions, up to 66 wounded persons were treated as out patients. About 2,871 surgical operations have also been performed at the ICRC operation theater since it was established.
The ICRC has in place two surgical teams attending to the survivors of hit and run attacks around Borno state, evacuated to Maiduguri for treatment.
The ICRC Hospital Project Manager in Maiduguri, Issa Ahmed also explained that 5,491 blood donors have been screened at the blood bank.
He said other hospitals can also access the blood bank to save lives.
The ICRC surgical team has been conducting outreach activities screening IDPS living in host communities to ensure they have access to surgical care.