Buhari To Send Supplementary Budget To National Assembly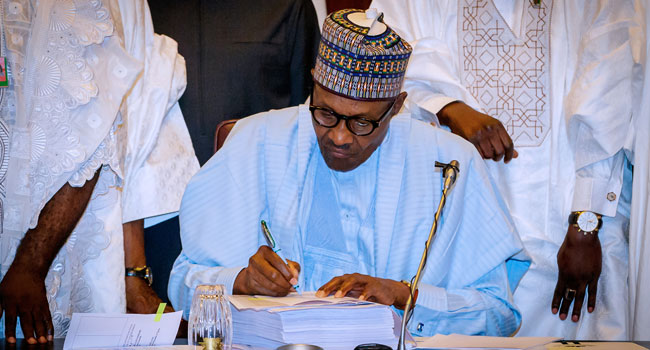 President Muhammadu Buhari has revealed his plan to forward a supplementary budget to the National Assembly.
He disclosed this on Wednesday shortly after signing the 2018 Appropriation Bill into law at the Presidential Villa in Abuja, the nation's capital.
READ ALSO: President Buhari Signs 2018 Budget
The President also raised concerns about some of the changes made by the lawmakers in the 2018 budget.
He, however, said, "It is my intention to seek to remedy some of the most critical of these issues through a supplementary and/or amendment budget which I hope the National Assembly will be able to expeditiously consider."
President Buhari explained that despite his worry about the changes in the budget, he signed the bill into law in order not to further slow down the pace of Nigeria's economic recovery.
Some of the issues raised by the President include the reduction of allocation for the provision of security infrastructure in the 104 Unity Schools across the country by N3billion at a time when securing the students against acts of terrorism ought to be a major concern for the government.
He stressed that at a time when they are working with the labour to address compensation-related issues, N5 billion was cut from the provisions for Pension Redemption Fund and Public Service Wage Adjustment.
Buhari's Speech At Signing Of 2018 Budget [Full Text]
President Buhari also decried that about 70 new road projects were inserted into the budget of the Federal Ministry of Power, Works and Housing.
He noted that in doing so, the National Assembly applied some of the additional funds expected from the upward review of the oil price benchmark to the Ministry's vote.
The President was also unhappy that the provision for Rehabilitation and Additional Security Measures for the United Nations Building by the FCT, Abuja was reduced from N4 billion to N100 million – a difference of N3.9 billion.
According to him, the effect of the reduction will make it impossible for the government to fulfill its commitment to the United Nations on the project.
"Another area of concern is the increase by the National Assembly of the provisions for Statutory Transfers by an aggregate of N73.96 billion. Most of these increases are for recurrent expenditure at a time we are trying to keep down the cost of governance.
"An example of this increase is the budget of the National Assembly itself which has increased by N14.5 billion – from N125 billion to N139.5 billion, without any discussion with the Executive," President Buhari said.
He was, however, pleased with the success recorded in the implementation of the 2017 budget.
The President added that the government would work very hard to generate the revenues required to finance its projects and programmes, in its resolve to achieve the objectives of the 2018 budget.