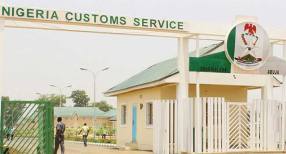 The Nigerian Customs Service has impounded a truck loaded with over 200,000 live ammunition reportedly being smuggled into the country from Benin Republic.
The truck was intercepted by men of the service on patrol in Babana, a border town between Niger State and Benin Republic, with the items concealed under a false bottom constructed in the vehicle.
Read Also: Fire Injures Several Persons Scooping Fuel In Niger State
Two suspects, the driver of the truck and a man who gave his name as Martin Anokwara, have been arrested in connection to the crime.
According to Mr Anokwara, he bought the items from a dealer in Cotonou on credit so that he could sell to hunters in Onitsha, Anambra State.
The comptroller of the Customs Service, Niger, Kwara and Kogi Commands, Benjamin Binga who spoke to Channels Television, commended the alertness demonstrated by his men.