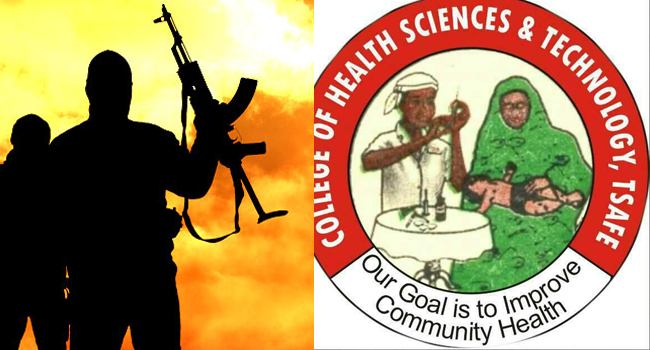 Bandits have invaded a residential area in Tsafe town and abducted five students of the College of Health Science and Technology, Tsafe, Zamfara State. One of them escaped from the abductors. 
The Provost of the College, Yusuf Idris, who confirmed the incident which happened on Wednesday, said the student sustained injuries and is receiving medical attention at the Tsafe General Hospital.
He said the abductors have contacted one of the victim's mother, threatening to marry her if the ransom is not paid. Mr. Yusuf appealed to the parents of the kidnapped students to remain calm as the school authority and security agencies are working round the clock to ensure the safe return of the students.
A source in the area, who narrated the incident, told Channels Television that the students were abducted when heavily armed men stormed their residence outside the school campus.
He said the bandits could not gain entrance to the school due to the heavy presence of security personnel.
---
RELATED
Victims Of Plateau Attacks Buried In Mass Grave
Kaduna Train Attack: Victims' Families Issue 72-Hour Ultimatum To FG
Police Rescue 39 Kidnapped Victims In Zamfara
23 Locals Killed In Fresh Attacks On Two Benue Communities
Suspected Herdsmen Kill Seven In Taraba Reprisal Attack – Police
Police authorities in Zamfara State have also confirmed the abductions. The spokesperson of the command, Muhammed Shehu, said troops have been deployed to trail the bandits and rescue the victims unhurt.
Normal academic activities are going on at the college premises while students are going about their normal daily activities.
The school authority has, however, instructed students living off-campus to avoid some areas in the town for security purposes.
Wednesday's incident adds to the long list of the kidnapping of students in Nigeria's northwest region where banditry has gained roots.
Several schools in the area have been attacked in recent months with scores of students kidnapped but later released. Authorities have, however, denied paying ransom for the freed students.
As part of plans to tame it, some governments across the region last year introduced a string of measures including banning of sales of petroleum products in jerry cans and blockage of telecommunication services. But the moves were reversed months after.
The Federal Government had also designated the bandits as terrorists as calls mount for more military actions against the criminals.
Despite efforts by the government, banditry is on the rise and critics have accused authorities of being complacent in tackling the menace.