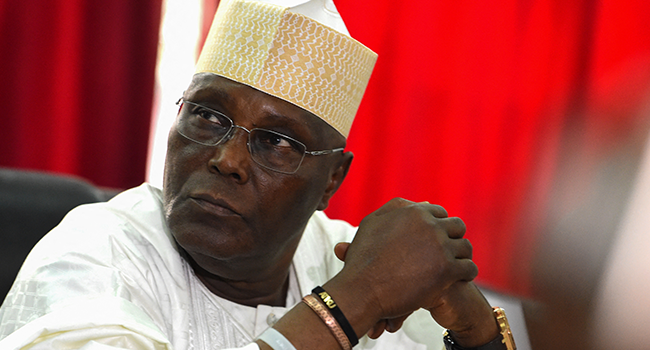 Presidential candidate of the Peoples Democratic Party (PDP) in the 2023 general elections, Atiku Abubakar, said on Wednesday that the recent total National Grid Collapse is too much for the Nigerian people to bear.
Atiku while stressing that the grid collapse on Wednesday is the 6th time it has happened in 2022, proposed an advanced strategy for funding infrastructure which will lead to creating a conducive environment for investors to come in and stabilise the power sector.
---
READ ALSO: National Grid: SERAP Sues Buhari Over Missing N11trn Electricity Fund
---
"Due to the priority that I place on the power sector upon which the successes of other sectors are hinged, I am proposing innovative financing of infrastructure that will involve the facilitation of a review of the financial, legal, and regulatory environment to promote private investment in power, among other sectors.
"I'll promote the incentivisation, with tax breaks, a consortium of private sector institutions to establish an Infrastructure Debt Fund (IDF) to primarily mobilise domestic and international private resources for the financing and delivery of large infrastructure projects across all the sectors of the economy.
"The IDF will have an initial investment capacity of approximately US$20 billion," Atiku promised.
Additionally, the PDP Presidential candidate said he will cause the creation of an Infrastructure Development Credit Guarantee Agency to complement the operation of the IDF by de-risking investments in infrastructure to build investor confidence in taking risks and investing capital.
On Thursday morning, the Transmission Company of Nigeria (TCN) said it had completed the restoration of the grid.
TCN in a statement by its General Manager, Ndidi Mbah, said the national grid experienced system disturbance at about 11.27am on Wednesday, 20th, July 2022, adding that the incident was a result of sudden drop in system frequency from 49.94Hz to 47.36Hz, which created system instability.
According to reports obtained from the National Control Centre (NCC), the collapse occurred after a Unit (with a load of 106 MW) in one of the generating stations tripped due to "Exhaust over Temperature".