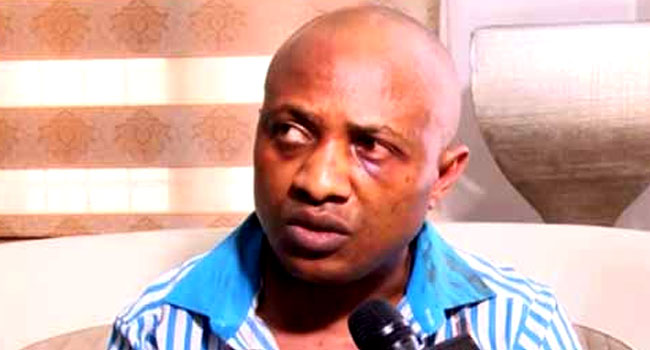 The Lagos State Special Offences Court sitting in Ikeja has sentenced kidnap kingpin, Chukwudumeme Onwuamadike, popularly known as Evans, to 21 years imprisonment.
Justice Oluwatoyin Taiwo convicted and sentenced Evans and his co-defendant, Victor Aduba, to 21 years imprisonment for kidnapping one Sylvanus Hafia.
Evans and his co-defendants were before the court on four counts of conspiracy, kidnapping, and unlawful possession of arms.
They were accused of conspiring and kidnapping Sylvanus Ahanonu Hafia at about 5:30pm on June 23, 2014, at Kara Street, Amuwo Odofin in Lagos and were alleged to have captured and detained Hafia and demanded a ransom of $2 million.
But the defendants pleaded not guilty to the charges preferred against them. Monday's jail term is the second sentence against the kidnap kingpin.
Justice Hakeem Oshodi had earlier sentenced him and two others to life imprisonment for conspiracy and the kidnap of the Managing Director of Maydon Pharmaceuticals Limited, Donatus Dunu.
Evans, however, still has outstanding cases before Justice Adedayo Akintoye also of the same court.
Besides the jail term, Justice Taiwo also convicted and sentenced them to another five years imprisonment each on two other counts of conspiracy to commit the acts and for being in unlawful possession of firearms.
The court held that the jail terms would run concurrently with no option of fine.
Evans and his co-defendant were arraigned before the court on December 15, 2017.
During their trial, the prosecution called four witnesses, including Hafia who testified that a ransom of $420,000 was eventually paid by his brother and wife to secure his release.
The victim specifically identified Evans whom he said he saw before he was blindfolded, beaten, and put on a bus.
Hafia said on the day he was kidnapped, Evans wore a three-quarter-jeans short and carried an AK47. He testified that there were others with him and one of them whom he later came to know as Aduba, had on an army uniform.
In reaching her judgment, Justice Taiwo identified two issues for determination; whether the victim was kidnapped and whether the defendants did it.
She found that the victim identified the first defendant during the kidnap and even at the police station where Evans was said to have apologised to him.
The judge also held that there was no evidence of bruises on Evans during his video interview with the police, contrary to his claim that he was tortured.
"There was no proof of evidence before the court that Evans was tortured by Abba Kyari's men," she said. " In the video interview, during trial within trial, Evans told one Sergeant Ekundayo that he was a primary school dropout, and he could not write.
"He asked the police officer to help him write his statement. I watched the video record where the defendant told the investigating police officer about his escapades of how he breaks into banks to steal millions as if he was proud of his escapades. He smiled often and called himself a businessman," the court held.
The judge concluded that she was satisfied that the prosecution was able to prove the case against the first defendant.
As regards the second defendant, the judge said that she believed the testimony of the prosecution witnesses that Aduba wears his army uniform and helps Evans and the others clear the way whenever they go for operations so that they can freely leave town.
The court also considered the confessional statement of the second defendant who said, "I am an army officer, and I was introduced to armed robbery and kidnapping by one Chukwudumeme Onwuamadike (Evans), our gang leader, we have operated five times.
"I have participated five times and we used four AK47 rifles to kidnap at Amuwo Odofin and after one month Evans gave me N1 million, as my own share of the money. I have made up to N6.5 million, in the five times I participated."
In the final analysis, the court held, "I find the first and second defendants guilty as charged. I hereby convict them accordingly."