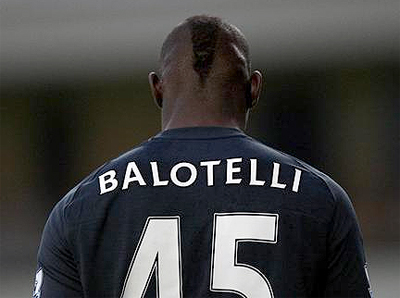 While awaiting the opening of the EURO 2012 tournament this summer, racist fans got a note of warning from Italian striker and Manchester City striker Mario Balotelli as he has vowed to 'kill' anyone  promoting racial abuse during the summer tournament and this will not apply to him alone but to other minority players.
Recalling Balotelli's horrific racist incidents in the past, it can be said that he's been there and knows how it feels to be racially abused on the field of play and on that ground has cautioned any potential racist fans and scene-makers to stay at home.
According the Manchester City Striker "I will not accept racism at all, it's unacceptable. If someone throws a banana at me in the street, I will go to jail, because I will kill them."
An incident that happened in Rome had bananas and banana peels hauled at Balotelli three years ago during the U-21 European Championships and he revealed how close he was to dealing with the racists himself.
"It was lucky that the police arrived quickly because, I swear, I would have beaten them," he reflected. "I would have really destroyed them. I hope it never happens again."
Aside that, Balotelli is hoping to have an incident-free tournament and he believes with that he can say he will fully enjoy the tournament like the rest of the world is hoping too.
The European Championships represent a chance for Europe's top talents to compete at the highest level, and Balotelli hopes it passes without issues.