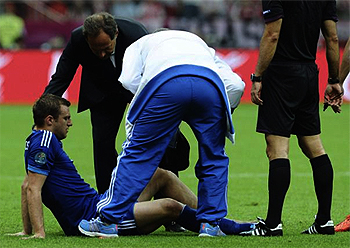 The central defender for the Greece, Avraam Papadopoulos has been ruled out of the European championship 2012 which started in Thursday with his country playing the opening game with co-host country Poland, a game that ended in a draw.
It was during Friday's game that Papadopoulos was sown on-field getting medical treatment after being injured in Warsaw stadium and he was helped off the pitch in the 37th minute after what initially appeared to be a harmless challenge from Poland's Robert Lewandowski in the Group A game.
The team doctor has confirmed that the central defender will be missing the rest of the European Championship after picking up a ligament injury to his left leg and the 27-year-old was due to fly back to Greece later in the day.
The Olympiakos defender played a key role in Greece's qualifying campaign for Euro 2012 will be solely missed for experienced defensive play, a notable advantage for Greece in the EURO 2012 tournament.