Over a million Nigerians will die if Nyos Dam should collapse-NEMA
Over a million Nigerians are likely to die if the Nyos Dam in Cameroon should collapse the National Emergency Management Agency (NEMA) has warned.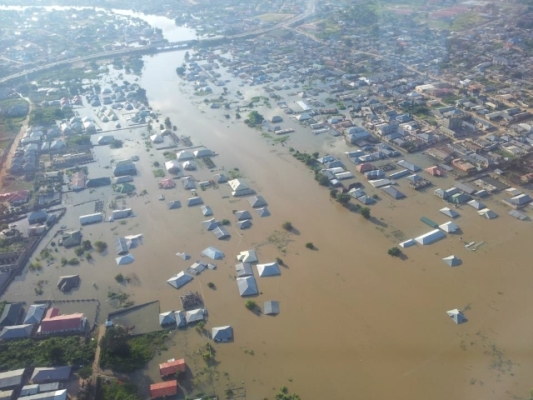 The agency made this known at the presentation of a manual to prevent such an occurrence. The manual, which was endorsed on Thursday at a ceremony in Abuja by stakeholders, aims to put measures in place to mitigate flood waters from the lake from affecting the people of Benue State.
The agency said the manual, titled Lake Nyos Disaster Response Manual, was produced to "proactively prepare for the disaster that may arise from the possible collapse'' of the Lake Nyos Dam in Western Cameroon.
Director-General of NEMA, Alhaji Muhammed Sidi, said Lake Nyos was close to Nigeria and that a 2005 UNDP report had predicted that the dam was at "a point of potential collapse''.
Sidi, who was represented by NEMA's Director of Administration, Dr. Zanna Muhammad, said the report predicted that the collapse might be caused by gradual erosion from rain, wind and lake waters, or as a result of violent volcanic eruption.
The representative of the DG explained that the report mentioned the possibility of the breakdown of the dam within 10 years, adding that the eventual failure of the dam would result in the discharge of about 55 million cu. metres of water which would result in flooding downstream.
"It is estimated that between Cameroon border and River Benue, 50 settlements, including Katsina-Ala, Kashimbilla, Waya, Manga, Gamovo, Andie, Terwegh and over 15,000 hectares of land will be flooded.
"Also, over one million people and 20,000 heads of cattle and other livestock will be affected and could perish," he said.
He also said that financial losses had been estimated to be in billions of naira, comprising of crops, residential and commercial structures, utilities and infrastructure, including roads and bridges and other services.
KILLER WIND
Meanwhile, the Nigerian Meteorological Agency (NIMET) has warned Nigerians to take precautions against violent winds that may occur during the dry season, due to the effects of climate change.
The Director-General of NIMET, Dr Anthony Anuforom, gave the warning in Abuja on Thursday.
He said, "We are transiting now from rainy to dry season; the kinds of things we may experience are violent winds. Therefore, we advise people to avoid staying under trees.
"The reason why we alert people is for them to know ahead of time and take necessary precautions.
"We have no ability to protect natural disasters but the ability to observe what the weather is and inform the people early."
Anuforom further noted that if forecasts by the agency were strictly adhered to it could help save the situation, adding that any emergency situation could only surprise people unexpectedly if there were no early warnings.
"If adequate disaster risk measures are taken, the number of deaths will decrease because people would have known what to expect,'' Anuforom said.