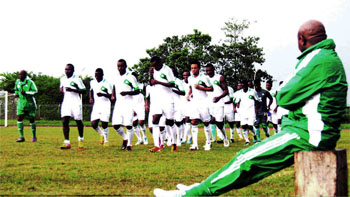 Missing in action during the 2012 edition for the African Nations Cup which was co-hosted by Equitorial Guinea and Gabon, Nigeria Super Eagles are eager to go into action in the 29th edition of the Nations Cup hosted by South Africa.
Super Eagles will have a feel of the Afcon spirit today as they clash with Burkina Faso amongst other matches.
The Super Eagles will be aiming to win their third title having won in 1980 as Green Eagles and 1994 as Super Eagles.
The Super Eagles have been four time runner up and seven time third place.
The Super Eagles so far has graced the Africa Cup of Nations 16 times since the inception of the tournament, for 13 times the Super Eagles have been on top of the podium from winners to runners up to third place.
In 1963 and 1982 the Eagles got eliminated in the first round and in 2008, they were eliminated at the quarter final stage.
Although grouped along with defending champions, the Chipolopolo of Zambia, the Super Eagles are said to be favourites to win Group C which also has Ethiopia and Burkina Faso. Even as none of the teams in the group is a push over, the Eagles are favoured to top and progress from the group.
Those who have tipped Eagles to top the group ahead of Zambia have hinged their confidence on what they described as Eagles invincibility against the Southern Africa team. But this is not to say it is going to be a stroll in the park for the Coach Keshi-tutored lads.
Since he took over the team in 2011 after spells with the national teams of Togo and Mali, Keshi who was the captain of the 1994 victorious Super Eagles has embarked on rebuilding the team. With the support of the Nigeria Football Federation, NFF, Keshi's team has played a couple of international friendly matches which provided ample opportunity for him to pick his players for the 2013 AFCON qualifiers and the 2014 FIFA World Cup in Brazil.
At least 17 of the 23 Eagles in South Africa will be making their AFCON debut but that has not dampened their confidence. They are rearing to go so as to prove to their critics that the Eagles are back to its winning ways.
Nigeria as a football loving nation back home will be rolling their drums today to launch the Super Eagles to their victory in the Nations cup as the team hope to walk their way into the final and bring home the trophy.