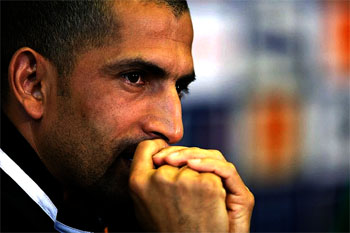 Coach Sabri Lamouchi of Cote D' Ivoire has pitched his tent with group F leaders, the Super Eagles of Nigeria and African Champions to pick the World Cup ticket.
Lamouchi said he is so sure that the Super Eagles will hit hard at the Harambee Stars of Kenya despite the seeming setback in the last game played in Calabar where it ended in 1-1 draw, insisting they will also go on to pick a World Cup ticket.
It took so much effort for the Super Eagles to survive what would have passed as embarrassing for the current African Champions, thanks to Nnamdi Oduamadi with a late effort at goal for the match to end in a 1-1 draw.
The Super Eagles on the road to the AFCON 2013 finals earlier this year showed Sabri Lamouchi's men the way out of the tournament in the quarter-final and went on to win the competition, a defeat which for Lamouchi was shocking.
"No, I did not really expect them to knock us out, but in this kind of big tournament you can never tell. I was, however, surprised how they played against us.
"They were superb, had a stronger fighting spirit and pace than us. And after their win over us I tipped them to lift the trophy."
In their World Cup qualification quest, Cote D' Ivoire are in Group C with seven points, one above second-placed Tanzania, but Lamouchi is confident that they, along with Nigeria, will make it past the qualifying round.
"Of course my team, the Ivory Coast, one or two from North Africa, Nigeria and probably Zambia (are the five teams) that will qualify to represent Africa at the 2014 FIFA World Cup in Brazil," he said.