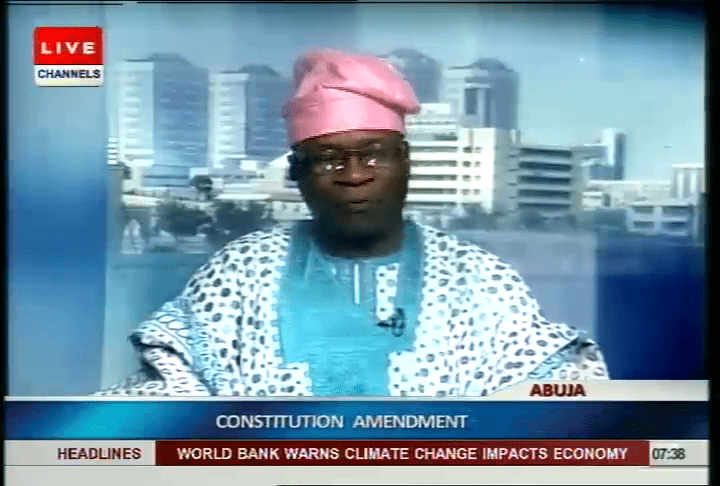 The National Publicity Secretary of Congress for Progressive Change (CPC), Rotimi Fashakin has ruled out the Senate's 6-year-single-term recommendation, describing it as a 'bad idea' which is not in the best interest of the citizens of Nigeria.
Mr Fashakin made this known while speaking as a guest on Channels Television's breakfast programme, Sunrise Daily, where he stated that the motive for any bill or law should be the welfare of the people.
The Senate committee on the amendment of the constitution, headed by the Deputy Senate President, Ike Ekweremadu, has recommended a six year single term for the president and governors. The proposal however, indicated that serving President and Governors will not benefit from the new proposal.
"The business of government is basically about the people," Mr Fashakin explained; adding that the bill is an attempt to depreciate the sovereignty of the people.
"What this bill tries to do is attempting to deviate, depreciate that sovereignty that rightfully belongs to the people," he said.
He likened the 6-year-single-term to an Annual General Meeting (AGM) which only holds every seven years, which means the board of directors are only accountable to 'shareholders' once in every seven years.
"What this (bill) is trying to do is akin to a board of directors going the shareholders (who are the true owners of the coy) and saying you know what from next year
We shall not be coming back to you again yearly; we would come back to you in seven years' time. So it is in 7 years' time or 6 years' time that you would do your AGM"
Mr Fashakin said that the proposed bill is "a lot more ridiculous than" the illustration he gave.
He labeled the bill a 'bad idea' which is also 'anti-people'.
The bill should be 'jettisoned wholesale by the Nigerian people,' he added.
Mr Fashakin said that the bill, an idea initially put forward by President Goodluck Jonathan "is not in the interest of the Nigerian people."