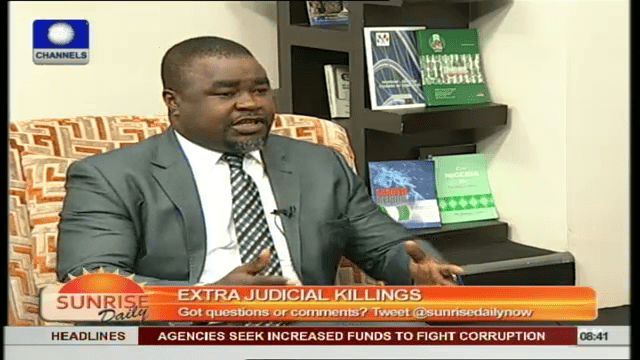 A legal practitioner, Liborous Oshomah, has alleged that certain persons of the Nigeria Police will most likely benefit from the death of a young commercial motorcyclist, Olalekan, who was shot dead on Tuesday by a policeman in Ikorodu, Lagos state.
"The issue is nobody is talking about compensation for the family," but rather people will benefit from the mishap as "committees will be set up to investigate this. Some people will be sent from Abuja, a special squad to investigate. They would stay in a hotel. They would be paid estacode, out of office allowance and all of that and at the end of the day the report will not see the light of day."
He said this while speaking on Channels Television's breakfast programme, Sunrise Daily, adding that such incidents happen in other parts of the country regularly but they are hardly made public, probably due to minimal-media presence.
"In other states, it's happening daily, hardly spoken of."
Responding to the Commissioner of Police, Umar Manko's call to aggrieved colleagues of the murdered okada rider to adhere to traffic laws and keep calm, Mr Oshomah said 'human life' is the main issue and not traffic laws.
"That's to tell you the value this people place on human life," he added.
He also accused the government for placing low value on the lives of citizens which is why the people "find it very convenient these days to put our hope and our lives in the hands of pastors because government has failed in all sectors," he said.
"The government is culpable" in this case, he said, decrying the public conduct of police officers who in his opinion, should be examined psychologically and trained appropriately before they are empowered with ammunition.
He implied that the policeman assigned to enforce law on the street needs no gun to accomplish it.
The murdered motorcyclist, Olalekan, the only son of his parents was survived by a wife, three children and siblings.