Jonathan Appeals To ASUU To Call Off Strike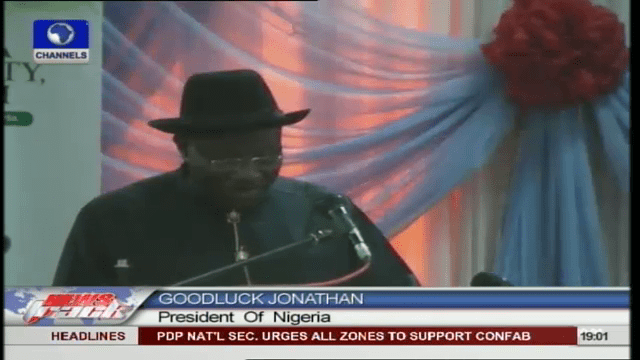 President Goodluck Jonathan has appealed to the leadership of the Academics Staff Union of Universities (ASUU), to tamper anger with justice.
The president made this while speaking during the first convocation ceremony of the Afe Babalola University in Ado Ekiti, EKiti state, south-west Nigeria.
Jonathan, who made the appeal for the sake of the Nigerian students, urged the leadership of ASUU to allow students go back to school as the federal government will continue to look into their demands.
"I once again appeal to the entire membership of ASUUto pause and ponder on the adverse effect of their action on the future of the vibrant youths of this great nation.
"The collective destiny of tens of thousands of tomorrow's leaders should not be held hostage to vagaries of labour disputes.
"So, let me use this unique opportunity that I am interfacing with our future leaders, our students, to plead with ASUU members.
"If it is a genuine strike, keeping students out of classrooms for almost four months, by that they have demonstrated to everybody that they have a case.
"And if the strike is motivated by some other interests, they have also achieved that by keeping students out of schools for more than a semester," he said.
President Jonathan further emphasised that the freedom of association and the right of workers to go on strike should not be abused and used to the detriment of the nation.
Mr. Afe Babalola (SAN),  said in his short address noted that the government cannot do it alone, he urged all stakeholders to contribute their own quota to the development of education in the country.
Babalola said the institution which was built some three and half years ago is worth over 60 billion private investments.
He added that the school which has over 4000 students from 36 states of the federation and FCT, is reputed to be one of the fastest growing private universities in Africa and the 14th best among all public and private universities in Nigeria.
Babalola said he decided to invest in the education sector because of his firm believe that government cannot fund the sector alone adding that the best universities in the world such as Oxford and Havard are privately owned.
ASUU had embarked on an indefinite strike that has paralysed academic activities in universities across the country.