Think Before You Talk, Former DSS Boss Berates Governor Nyako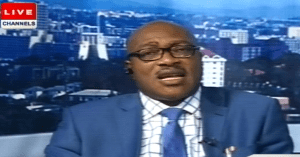 Following the presidential response to controversial comments credited to Governor Murtala Nyako of Adamawa State, which accused the Federal Government of carrying out genocide against Nigeria's northern states, the Former Director, Department of State Service [DSS], Mike Ejiofor, on Thursday also berated the governor and called on well-meaning Nigerians to condemn such statements.
Speaking from Channels Television's Abuja studios on Sunrise Daily, Mr Ejiofor described the Governor's comments as unfortunate, because "he's supposed to instill confidence and not fear in the people he is leading."
Adamawa is one of the three states under State of Emergency in the North-East and has suffered several attacks by members of the Boko Haram insurgency who security agencies have said move into the State through the unguarded Cameroon border.
Ejiofor however opined that the governor's comments were born out of politics and not frustration over the situation, noting that such comments had the capability of sparking civil unrest.
"Being a person in position of authority, he should also temper his words, because he is supposed to instill confidence and not fear in the people he is leading," he said, urging well-meaning Nigerians to disregard the statements which were "unfounded and unsubstantiated."
He stressed that there was no need to carry out investigations into Nyako's allegations as there was no iota of truth in it, warning that the "statement alone is even capable of emboldening the terrorists to continue the insurgency."
"We should not be playing politics with our security… because it's distracting and it's not helping us and the insurgents have not said exactly what they want, (and) that's why all hands must be on deck."
Making reference to comments by former Head of State, General Muhammadu Buhari, the former DSS boss also urged all governors to join hands with the federal government to ensure that peace reigned in the country.
He further called on citizens to take responsibility as regards the nation's security, understand the current situation and exercise patience as terrorism is not a war that can be fought easily and won.
On the rumoured Boko Haram attack along the Lagos/Ibadan expressway on Wednesday, Ejiofor said it was the work of mischief makers but could have been planted by terrorists.
While calling on citizens to always verify information from the security agencies and also make use of emergency numbers available, he noted that the government or security agencies should have reacted immediately to assure citizens that the rumour was untrue.
On the aftermath of Nyanya bomb blast which has caused regular traffic gridlock in the affected area in Abuja, Ejiofor called said citizens should exercise patience but warned that there was danger in such traffic situations as terrorists may take advantage of such situation to wreck more havoc.
He called on security agents to find solutions to tackle the situation.
Chibok Girls:
Ejiofor also gave another perspective on the abduction of the school girls in Chibok, Borno State, stating that the terrorists could be using them as human shields, to ensure that the Army does not attack the forest without caution.
He supported Chijioke Ubani's suggestion on tracing the point of purchase of the Hilux vehicles being used by the insurgents, using the Chassis numbers but noted that some of the vehicles may have been smuggled into the country without proper documentation.
"Citizens should liaise more with security agencies and provide information," he said, and advocated for a system of Community Watch which would comprise of retired security personnel.