Channels Nat'l Kids Cup Kicks Off With Wins For Toyibat, Ago-Egba, Dr. Teslim Elias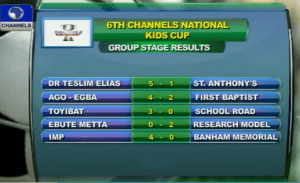 The sixth edition of the Channels National Kids Cup started on Thursday at the Agege Stadium in Lagos with 8 matches played.
In Group A, Dr. Teslim Elias, Lagos defeated St. Anthony's Primary School Ondo, 5-1 in the first match, while Ibadan Municipal Primary School from Oyo State beat Banham Memorial School, Rivers State by 4 goals to 1.
In Group B, Ago-Egba, Lagos defeated First Baptist Primary School from Osun, State 4-2, while Bishop Smith LG Kwara lost to 1-2 to Samuel Ajayi Memorial, Ogun State
In Group C, Toybat secured their first win as they were victorious in their encounter over School Road from Abia State, 3-0.
There was action in Group D as well with Lagos State representatives, Ebute Metta Primary School losing to Research Model Primary School Kaduna by 2 goals to nil. It was a massive win for Eunifrance Memorial, who got the better of their counterparts from Ekiti, Irepodun 5-0.
The last match for the day was a Group C match between Nana Primary School, Delta State and 12 Apostles Primary School from Ebonyi State and it ended in a 4-1 thrashing of the boys from the East.
More group matches would be played on Friday.