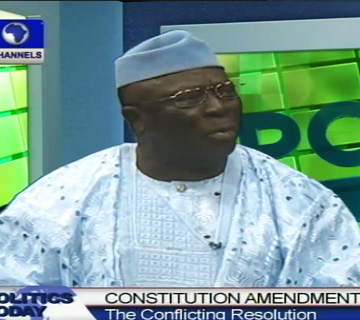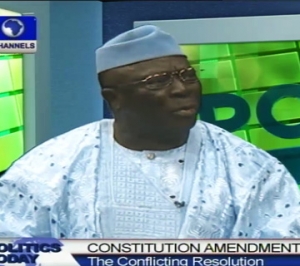 Elder Statesman, Ayo Adebanjo, believes in Nigerian President, Goodluck Jonathan's sincerity to implement the over 500 recommendations from the National Conference held earlier in year.
While expressing his confidence in the President, he said that Nigerians have expressed too much doubts in the sincerity of the President to convene the conference in the first place but he has so far fulfilled every promise he made regarding the matter.
Speaking on Politics Today on Channels Television, Adebanjo argued that President Jonathan deserved some trust from Nigerians based on his sincerity to Nigerians and his determination to convene a national dialogue that surpassed similar attempts in the past.
He noted that the quality of representation at the conference, which was that of top quality and made up of persons like him who had the interest of the country at heart, showed how committed President Jonathan was to the dialogue and change that Nigerians had clamoured for since the end of military government.
Adebanjo, who was one of the delegates, added that he was one of those who fought for Nigeria's independence and there was no way he would not understand how much the original constitution Nigeria was expected to be operating had been manipulated by the military.
He said that the conference has been able to tackle the main issues affecting the progress of the country and so far no one has been able to fault the quality of work done by the delegates.
Disparity With National Assembly Resolutions
The National Assembly recently passed resolutions amending parts of the Nigerian constitution but some of their resolutions have been seen to negate the recommendations of the National Conference.
The National Conference had recommended the removal of immunity for the executive arm of the government but the National Assembly voted against this in its recent constitution amendment.
Adebanjo noted that the National Assembly was one of the problems they went to the National Conference to solve and he did not expect them to approve the removal of policies that they have been "enjoying adversely against the interest of the people".
He particularly took exception to the National Conference's resolutions being compared or being discussed in relation to the National Assembly's recent constitution amendments.
He questioned the quality of persons in the National Assembly and the elections that took them into the legislative houses.
Although the National Assembly also voted in favour of granting autonomy for the Local Government, which was also one of the recommendations of the National Conference, Adebanjo maintained that the National Assembly lacked the integrity to champion the change that Nigeria needs.
Adebanjo also aligned with the view expressed by former President, Olusegun Obasanjo that the idea of a Muslim-Muslim ticket allegedly being nursed by the All Progressives Congress towards the 2015 presidential election.
He said that this move showed insensitivity to the current state of mind of Nigerians and would be counter-productive.