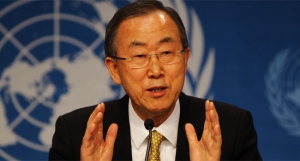 The UN Secretary-General, Ban Ki-Moon, says the way the presidential election in Nigeria was conducted is "a testament" to Nigeria's "democratic spirit".
Mr. Ban Ki-Moon also commended President Goodluck Jonathan for "his statesmanship in upholding the democratic process".
He applauded the Independent National Electoral Commission (INEC) for organising the elections in a professional and credible "manner under challenging circumstances".
The UN Chief then called on all Nigerians to accept the outcome of the elections.
He expressed hope that the same democratic spirit would prevail in the conduct of the governorship and state houses of assembly elections on April 11.
General Muhammadu Buhari was declared the winner of the Presidential election in the early hours of Wednesday and has received his Certificate of Return from the Independent National Electoral Commission (INEC).
He defeated Nigeria's incumbent President, Dr Goodluck Jonathan, by over 2 million votes, in a keenly contested election which held on Saturday, March 28, 2015.
This is the first time an opposition party is winning the presidential election in Nigeria.
Before handing over the certificate to General Buhari, the Chairman of INEC, Professor Attahiru Jega, pledged that the commission would continue to do its best, under all circumstances, to ensure free, fair and credible elections.