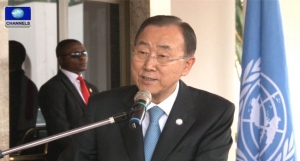 The United Nations Secretary General, Mr Ban Ki-moon, has commended the Nigerian government for interrupting polio transmission in the last one year.


Nigeria recently celebrated one year without a new polio case, but will be certified by the World Health Organization in 2017 if there is no new case of polio transmission before then.
Mr Ban made the commendation on Monday when he visited a neighbourhood Immunisation Centre in Abuja, Nigeria's capital city.
He promised to rally global support for Nigeria's efforts to attain a polio free status by the year 2017.
The United Nations Secretary General was in Nigeria on a two-day official visit, where he addressed issues centred on health, human rights, security and climate change.
At a meeting with business leaders on Monday he stressed the need for global support for the 17 Sustainable Development Goals of the United Nations which would be discussed at a meeting in Paris later in the year.