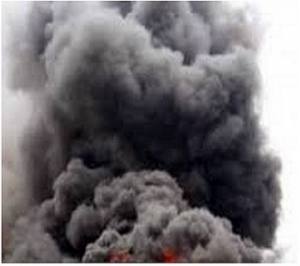 Another gas explosion has occurred but this time in Minna, the capital of Niger State in Nigeria.
The incident occurred around 11:30am and killed an attendant identified as Sani Adewale who was refilling a gas cylinder.
The gas shop, located near a second generation bank, had just opened for the day's business when neighbours heard a loud explosion.
It was gathered that many residents along Bosso road in Minna took to their heels, while those who were courageous enough approached the shop to find out what was happening.
The body, suspected to be the owner of the shop, was found mutilated on the floor of the shop with two other people also injured.
The resulting fire was brought under control by the combined efforts of the Police and Fire Service, including the National Emergency Management Agency (NEMA) and the Niger State Emergency Management Authority (NSEMA).
A combined security team also arrived the scene and condoned off the part of the dual carriage Bosso road under Chanchaga Local Government Area of the state.
The Chairman of the local government, Mohammed Ndanusa, commended the efforts of security agencies, NSEMA and the State Zonal Coordinator of NEMA for the prompt responses.
He condoled with the family of late Mr Sani Adewale and prayed that God would grant him eternal rest.
The Zonal Coordinator of NEMA in the state said that effort were being put in place to relocate all those selling gas within residential areas to less populated areas to avoid further occurrence.
The Police Public Relations Officer, ASP Bala Elkana, also confirmed the incident and the death of Mr Sani Adewale.
Less than a week before this, eight people had been killed and several others injured following a gas explosion at a gas plant in Nnewi, Anambra State.
The incident occurred around midday on Thursday, December 24 when a consignment of gas was about being transferred to the company's dump, due to leakage, there was a massive explosion which quickly spread to nearby houses wreaking havoc.
The fire left bodies of victims burnt beyond recognition.