Life's Been Difficult Since MKO Abiola Died – Brother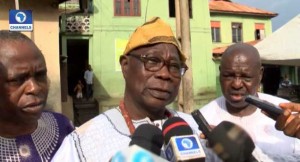 Younger brother of the late MKO Abiola, Muritala Abiola, says life has not been easy for the family since the death of their bread winner.
Mr Abiola spoke to journalists after a prayer session which held at the family house of the late business mogul in Abeokuta, the Ogun State capital, South West Nigeria.
The event was to mark the 23rd anniversary of the June 12 presidential election, widely acclaimed to be the freest and fairest in the country's history.
The poll is believed to have been won by business mogul and philanthropist, Chief Moshood Abiola but was annulled by the then military regime of General Ibrahim Babangida.
Chief Abiola later died in custody on July 7, 1998 following his arrest and detention by the regime of General Sani Abacha, for attempting to actualise his mandate.
"We feel the impact of his death because he was the breadwinner of the family – everyone of us, up to the aged people.
"But since he has died now, everything has been going down," he said.
The family would also want the federal government to declare the late Abiola posthumously as the winner of that election.
The prayer session was preceded by a walk organized by the state government.
From its take-off point at the June 12 Cultural Centre, through major streets of the state, the Ogun State Deputy Governor, Mrs Yetunde Onanuga, led other members of the State Executive Council on the walk which lasted for about two hours and terminated at the family house of the late MKO Abiola.
Addressing family members, Islamic clerics and members of the State Executive Council and other dignitaries, Mrs Onanuga commended the doggedness of the late MKO Abiola, saying that his resilience has brought about the current democratic experience in the country
Speaking on behalf of Governor Ibikunle Amosun, she reiterated the commitment of the state government towards sustaining events that would continue to keep the day in the minds of Ogun residents.