PDP Crisis: Sheriff Heads To Appeal Court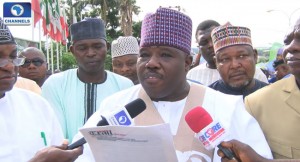 The embattled chairman of the PDP has headed to the Appeal Court after a Federal High Court in Port Harcourt recognized the Ahmed Makarfi-led caretaker committee as the only legitimate organ of the party.
Mr Sheriff told journalists in Abuja shortly after the court ruling that he remained the chairman of the party until the Court of Appeal set aside an earlier ruling of a Federal High Court in Abuja which was in his favour.
According to him, the Federal High Court in Port Harcourt is of equal ranking with that in Abuja and therefore cannot make him vacate office until a higher court rules otherwise.
Meanwhile, a statement signed by Ahmed Makarfi after the court ruling in Port Harcourt has appealed to the embattled chairman to sheath his sword and join hands to build the party.
A Federal High Court sitting in Port Harcourt, the Rivers State capital, has granted reliefs sought by the Peoples Democratic Party (PDP) on the controversies trailing the changes effected in the party's leadership.
According to Justice Abdullahi Liman of the Federal High Court 1, the national convention held on May 21, 2016 in the state capital was legal and did not go contrary to any law.