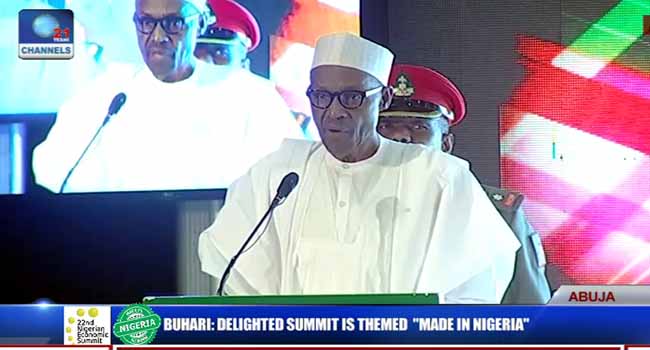 President Muhammadu Buhari says Nigeria has no other choice at the moment than to diversify its economy to break its reliance on oil.
The president made the statement while declaring open the 22nd Nigeria Economic Summit in Abuja.
"I am so delighted that you have chosen as your theme Made-in-Nigeria, which lies at the heart of so many of the efforts we are making to lead us through these troubled times and to lay a firm foundation for the future.
"We need to diversify the economy so that we never again have to rely on one commodity to survive as a country, so that we can produce the food we eat, make our own textiles, produce most of the things we use and create the right environment for our young people to be able to innovate and create jobs through technology," he said.
The President added that there was apparently no other way to steer Nigeria out of its present economic predicament without building a strong economic foundation on Made-in-Nigeria goods and services.
Holistic development
In an earlier speech delivered by Doyin Salami, a professor of economics and member of the Monetary Policy Committee, he said Nigeria needed to quickly work out a comprehensive development plan.
Professor Salami in his analysis of Nigeria's present economic landscape in the local and international context, warns that the numbers are not in the country's favour.
In the international market, he said: "International monetary policy, in particular, doesn't look good for us. The dollar is strengthening and the likelihood over the next 18 months in particular is that the dollar will continue to be strong.
"That's bad news for us by the way, because it also means a lower demand for crude oil".
Professor Salami, however, accused the Buhari government of not effectively communicating some of its policies which in turn affects investor's confidence.
He said Nigeria in the short term must boost the confidence of investors, articulate its development plan, with complementary monetary and fiscal policies and institutionalise a public procurement drive for Made-In-Nigeria goods.