UN Says 75,000 Children May Die Of Malnutrition In Nigeria's Northeast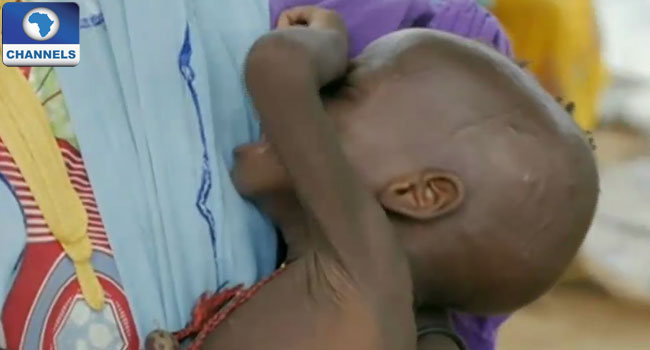 About 75,000 children in Nigeria's northeast may die of malnutrition and starvation over the next few months unless they receive urgent humanitarian aid, a UN agency has said.
The children are part of seven million persons in need of humanitarian assistance in the region that has been ravaged by over six years of insurgency.
Giving the figure on Tuesday, the Acting Humanitarian Coordinator of the United Nations Office for the Coordination of Humanitarian Affairs, Peter Lundberg, said the seven million persons were part of the 14.8 million people affected by Boko Haram activities in the region.
Mr Lundberg told reporters that 400,000 out of this seven million were children, with 75,000 in critical condition, arising from grossly inadequate funding for humanitarian aid, especially food supply needs which he puts at $5.1 million.
Only about 4.7 million persons are targeted for aid in 2016.
Some 5.5 million persons need protection, safe and secure environment while over one million children are in need of access to education and at least 1.8 million are displaced and living in camps.
Most troubling of Mr Lundberg statements was his warning that 400,000 children are in critical condition and up to 75,000 of them risk death over the next few months without urgent humanitarian aid especially food supply.
There is a sharp rise in the figure when compared with the figure that the UNICEF gave few months ago.
Skin Over Bone
In August, the agency said that 49,000 children, nursing mothers and pregnant women were at risk of death.
The Chief Nutrition Section of UNICEF Nigeria, Arjan De Wagt, told Channels Television that aid to the malnourished children had been hampered by insecurity in the region.
According to him, 240,000 children are severely malnourished with their 'skin over their bones'.
"They are so severely malnourished that if nothing is being done they are at a very high risk of dying.
"About one out of five of these children will die if they don't receive these special support that they need," he stated.
Mr Wagt said a total of 49,000 persons, including some pregnant and nursing mothers, could die before the end of the year.
"This figure by the way is 28 children per day. Eight children dying every hour if nothing is being done.
"These children do not need just normal food aid. They need treatment for their severe condition and there is a very specialised product we need for that.
"This calls for therapeutic food and it is a very special treatment for severe malnutrition," he stressed.
For Mr Lundberg, however, underfunding is the major challenge.
He says $484 million is required to bring sanity back to Nigeria's northeast and far less than that is all they have.
Health, protection, shelter, clean water, food, nutrition and education are important humanitarian needs that these Nigerians want at this time.
The UN Humanitarian Aid Office says a humanitarian hub in the country is being considered as well as intensified multi-sectorial and multi-agency approach to tackle the humanitarian crisis.
Mr Lundberg believes that setting up the hub was possible in Nigeria, especially considering that Nigeria is not a failed state.