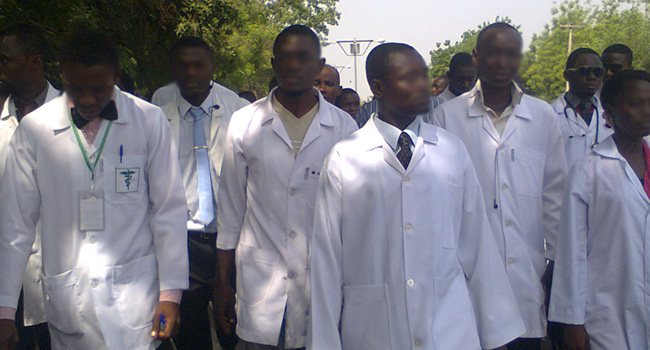 The National Association of Resident Doctors (NARD), has advised the Federal Government to urgently wade into the lingering crises in the health sector to the avert impending strike by doctors.
NARD issued a three-week strike notice that would lapse on January 2, 2017.
The Public Relations Officer, NARD, Federal Medical Centre, Yenagoa branch, Dr. Ugoeze Asinobi, said that the doctors had shelved the planned strike three times in the past four months and are bent on going on strike as from January 2.
The doctors are agitating for a uniform template for the Residency Programme, infrastructure for tertiary health facilities, proper grading of doctors and payment of outstanding salaries, among other issues.
According to Asinobi: "We don't want strike, but we are going to resort to it again.
"The Residency Programme is fundamental to effective health care, given the dearth of manpower as the country has less than 20 per cent of required experts.
"Each time the ultimatum expires, we shift it in the hope that things would be made right within the time given, but it is now obvious the Ministry officials are insincere.
"The issues we go on strike for are always the same issues and we are resolute to withdraw services come January 2, 2017, if our concerns are not addressed.
"One wonders if health ministry officials are sabotaging the efforts of President Muhammadu Buhari on purpose, as their brazen and blatant disregard to the most basic institutional needs of the major workhorses of the health sector leaves a lot to be desired.
"Their attitude leaves one bewildered as sabotage appears to be the only logical explanation," he stated.
Furthermore, he alleged that officials of Federal Ministry of Health are playing politics with the lives of Nigerians as they are insensitive and disconnected from the realities the masses were facing in their daily lives.
"NARD frowns at the wastage in building new primary health centres, rather than rehabilitating, equipping and staffing existing ones with requisite manpower".
"Resident doctors have always embraced dialogue and discussions in finding lasting solutions, but it is obvious that our commitment to peace and industrial harmony is yet to be reciprocated".
The P.R.O then appealed to the federal government to wade into the industrial dispute for the overall interest of the welfare of the citizenry.
According to him, executives of NARD remain committed to ending the myriad of incursions adversely affecting the welfare of resident doctors.