The Minister of Information and Communication, Mr Lai Mohammed, says negotiations are still ongoing for the release of the Chibok girls and every other abductee with the Boko Haram insurgents.
The Minister spoke as he led a Federal Government delegation with the BringBackOurGirls Group to North-east Nigeria to witness efforts by the military to rescue the remaining abducted Chibok girls.
The Minister, who was responding to comments by the Bring Back Our Girls group, said that there was a measure of success in negotiations as at December 1, but assured the members of the group that talks were still on to ensure the release of the girls from their abductors.
He, however, added that the tour had opened up to the world "the how and the what" strategies of the Federal Government and the armed forces to release every abducted person, and bring the insurgency to an end.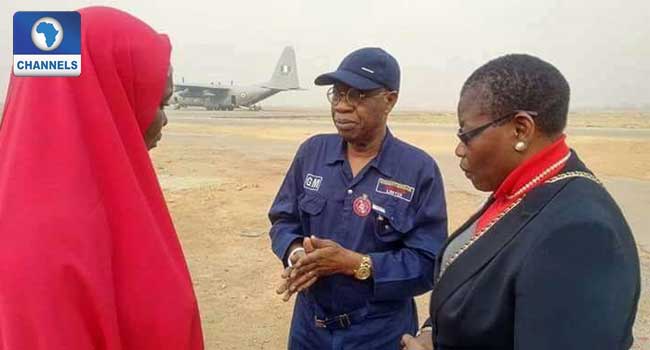 Responding to questions on their level of satisfaction on the efforts to find the abducted school girls, the BBOG group said that the trip had afforded them the opportunity to validate their stance that no military dis-empowered could win the war on terror.
Voice Of Accountability.
The convener of the group, Mrs Oby Ezekwesili, added that the group was more empowered to demand that any person who had been indicted for embezzlement of resources meant to prosecute the war on terror be prosecuted and brought to book.
She also said that the tour had shown that transparency and willingness to open up on the strategies and measures taken in prosecution of the war have more gains than loss.
She, however, added that the Federal Government must also take away from the tour, the fact that their advocacy on the war on terror in the north-east had gotten everybody to take more interest in what was going on in the north-east, for which this tour was initiated and that the group would continue to remain the voice of accountability.
She urged the Minister of Information to continue to give update on the prosecution of persons found wanting for embezzlement of funds meant for the prosecution war on terror.